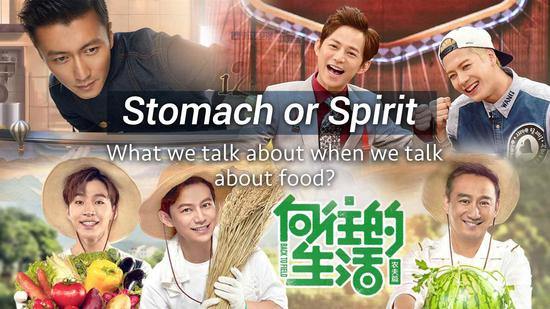 In a country where one of the most typical greetings can be translated to "have you eaten yet," rest assured that food is by all means essential.
With a huge number of people leaving their hometowns for work and living in metropolitan cities like Beijing and Shanghai, food shows become the go-with-meals choice for many audiences.
To learn cooking techniques or to enjoy mouth-watering video clips is not satisfying enough anymore. With full stomachs, more are seeking out a spiritual "canteen."
A soaring number of Chinese TV shows featuring delicacies and cuisine have popped up on screen and enjoyed wide popularity since CCTV's documentary series A Bite of China first aired in 2012. Traditional culinary shows have declined yet food variety shows with diverse and creative patterns have shown an upward trend.
According to statistics, more than 17 variety shows about food got released in 2016, and in 2017, the number reached 33. Several find ways to tap into open and premium content, obtaining applause and praise.
Let's have a closer look at them to explore the key to a hit food variety show and why people just love them.
Cooking for healing
Back to Field, as its name goes, turns its focus to natural and fresh food materials, home cooking and the simple rural life that rouses people's yearning for a slower life.
Despite a controversy on plagiarism, Back to Field season one finally achieved a sound feedback with over 1.7 average CSM TV rating, 130 million average video views, and 2,600 million hashtag reads on Weibo. It is regarded as one of the most "healing" TV shows based on netizens' comments.
Each episode features a keyword depicting different relationships and stories of the hosts and guests. Also, the menu always changes according to different guests' requests.
Living "on their own" in a small village in Miyun, a suburb district of Beijing, they had to harvest crops such as corn as the materials for their meals and in exchange for other food materials like meat and drinks.
Host He Jiong, a media mogul and one of the best-known presenters in China, and his friend Huang Lei, a famous actor and amateur chef, carried the show and dressed up "Back to Field" with soft and comfortable fabrics through juicy talks and reflections on life. The assistant host Henry Lau, a talented Canadian Chinese pop star, impressed the audience with an honest and funny persona.
Celebrities in various industries were invited to the cabin as the guests. To obtain the delicious dishes you ordered, farm work was a must-do thing for each person regardless of age and job.
The cabin became "an amazing place where everyone is happy to do some trivial things, sharing a common schedule based on the sunrise and sunset," said He.
Back to Field tells nice stories about the original relationship between food and human beings, and give a punch to the pain spot of numerous people living a busy urban life today – the purity of food materials is less likely to be appreciated with our hurried pace of life, like pure emotions and relations.
Culinary and cultural adventures
Xie Tingfeng (Nicholas Tse), a Hong Kong singer, actor, and a TV chef and food critic, is the face and co-producer of the hit cooking TV show, Chef Nic, which also achieved high video views of 860 million for the 1st season, 750 million for the 2nd, and 1,180 million for the 3rd.
Chef Nic adopts a much more common pattern – travel, taste and try – used by many other food shows such as Anthony Bourdain's Parts Unknown, combining culinary and cultural adventures in his world journey.
During his world tour, Xie tried to uncover the secret masks of various local ingredients and explore the perfect way to "represent" them. Splendid sceneries and cultures offered abundant visual feasts through the camera.
Each episode features local delicacies in one or two cities. Also, Xie invited his friends as his travel and cook partners. They embraced the challenges proposed by the professional chefs from different countries and regions.
Aside from the friendship that reminds you of those heart-touching moments shared with besties and bros, Chef Nic embraces all the elements of a high-end show: a global-spanning location budget, a cavalcade of guest stars (mostly actors, hosts, singers, directors), and most importantly, an appreciative appetite for dishes at ends high and low.
Fridge as a private album
Chef Nic shows its global ambition on exploring those rare and valuable ingredients, Go Fridge, however, focuses on the normal food materials you can find at the market near home.
Go Fridge, produced by Tencent Video with the rights bought from South Korean television series Please Take Care of My Refrigerator, enjoyed wide popularity with the video views of the first three seasons as 620 million, 360 million and 580 million, respectively. With a relaxing style, Go Fridge is regarded as the best "go-with-meal" variety show.
Filmed in the studio, Go Fridge invites two guests each episode that also bring their refrigerators.
Sitting down to talk with the hosts He Jiong and Wang Jiaer (Jackson Wang), a rapper, singer and dancer from Hong Kong, the guests introduce what they had in the fridge and share their tastes and palates. Two chefs selected will have 15 minutes to cook the dishes for the guests, with the winner finally chosen by the guest.
Go Fridge, however, is not the typical culinary competition show. The camera rarely lingers on the food or the acts of cooking or eating, and the competition part only takes up much less than one-third of each episode.
Juicy talks are highlighted and the memories and stories in daily life about food in the fridge count for much – the unique sauce made by mom or granny, the specialties given by friends, or an almost empty fridge with very little stuff within the expiration date.
The Fridge in this show is not just a big frozen box that stores food but also a private album that records and represents personal memories, habits and more details in daily life.
A glimpse of celebrity's fridge and private life greatly satisfies curiosity. In addition, the exclusive stories behind the food convince viewers that no matter what status and condition we are in, we share nearly the same tastes of life – happiness, sadness, bitterness, and sweetness.