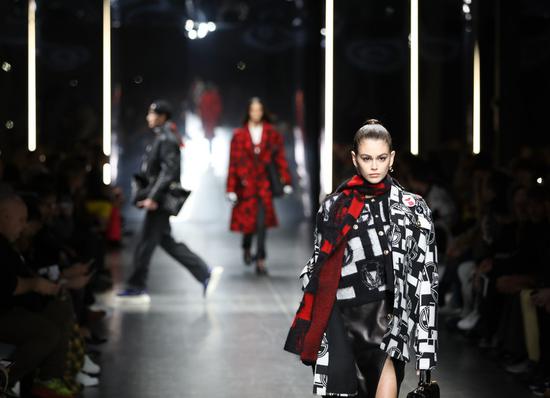 A model presents a creation for Versace during Milan Men's Fashion Week in Milan, Italy, on Jan. 12, 2019. (Xinhua/Cheng Tingting)
Italy's fashion industry has recognized the importance of the Chinese market for decades, according to key sector officials. But they say the market has never been as important as it will be in the coming years.
Production and most sales for the sector ground to a halt in March when production facilities and domestic retail outlets closed due to Italy's national coronavirus lockdown. Subsequent lockdowns in other countries and the resulting economic slowdown dried up international orders for existing stock.
"It was a blow unlike anything we've seen," Nicola Guerini, managing director of the Milan Fashion Institute, told Xinhua. "We're starting to climb out of it now, but it will be a difficult process."
Guerini said the "Made in Italy" fashion industry would emerge from the crisis differently than it was at the start. Much of the sector's domestic sales have been international sales in disguise, purchases made by tourists visiting Italy.
With the Italian tourism sector not expected to return to full strength before 2023, according to Minister of Cultural Heritage and Tourism Minister Dario Franceschini, that type of sale will be less frequent for a while. An uneven post-coronavirus economic recovery in different parts of the world is another drag on the medium-term prospects for the country's more than 60,000 fashion houses.
"It all combines to make China an even more important market than it's been in the past," Guerini said. "In the past, many Chinese consumers bought products while traveling in Italy in part because they cost so much less... once transportation costs and tariffs were figured in."
He went on: "We are working to get the premium down to 20 or 30 percent more in the Chinese market, not double," he said. "Otherwise we run the risk of losing those consumers to competitors who produce lower quality alternatives."
Italian fashion houses' focus on the Chinese market is not new, according to Raffaello Napoleone, chief executive for Pitti Immagine, organizer of an iconic annual fashion event in Florence that dates to the 1940s.
In an interview, Napoleone said that because the Chinese market is so large and so complex, fashion brands that have operated there for years and even decades have a big advantage over rivals in terms of name recognition and market presence.
Napoleone said international trade fairs, like the China International Import Expo (CIIE), which will be held in Shanghai from Nov. 5 to 10, can be a way for new arrivals in the market to catch up -- as well as for established names to reinforce their standing. He said the Chinese market is one of the few in the world to gain fast recovery since July, with the pandemic largely under control.
"CIIE is an unusual opportunity for fashion companies that want to find a place in the Chinese market," Napoleone said. "That is always true, but it will be even more the case this year and probably in future years."
Napoleone noted that because the fashion industry is always looking six months ahead, the apparel that will be on display at CIIE will be for the delivery of the spring and summer 2021 collections.
"Fashion houses are delivering the fall and winter collections now," he said. "We have the luxury and the challenge of working now on what customers will buy two or three seasons in the future. Hopefully, the collections on display (at CIIE) will be sold to consumers in a world where the coronavirus is much less of a problem."