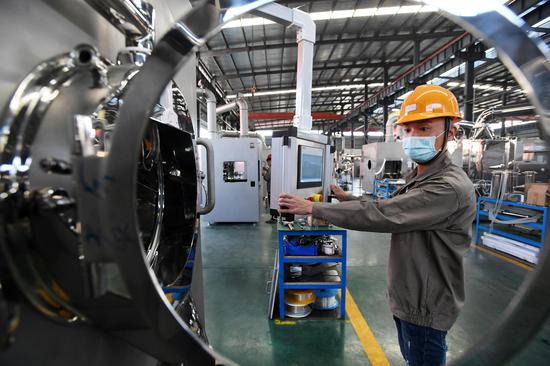 An employee works on a production line to produce dry granulators, which will be supplied to drug manufacturers in Shanghai and other cities to help combat the coronavirus, at Wanshen Pharmaceutical Machinery Co., Ltd. in Yichun, east China's Jiangxi Province, Feb. 24, 2020. (Xinhua/Zhou Mi)
Special: Battle Against Novel Coronavirus
After fluctuating at a low level for two weeks, the "resumption power index" which can reflect the number of enterprises that have returned to work in east China's Jiangxi Province shows an upward trend.
The index grew by 16 points from Feb. 13 to Feb. 24. "Based on the model calculation, every point of increase means that about 1,000 enterprises have resumed business," said Hu Zhiqiang from the State Grid Jiangxi Electric Power Co., Ltd.
As the barometer of economic growth, the index shows Jiangxi's economy is accelerating to recover from the novel coronavirus disease (COVID-19) outbreak, Hu added.
By Tuesday, 78,064 people on the Chinese mainland had been confirmed as being infected, and 2,715 had died. Meanwhile, the daily number of newly cured and discharged coronavirus patients has surpassed that of new infections for the eighth consecutive day.
As positive signs started emerging in China's battle against the epidemic, the country is meticulously expanding business operations with a precise approach that attaches different priorities to regions in light of their health risks.
DIFFERENTIATED MEASURES
Local authorities are ordered to take region-specific approaches when advancing resumption of work and production based on local health risks, according to decisions at a central authorities meeting.
Regions with relatively low risks should focus on preventing imported cases and comprehensively restoring the order of production and life. Medium-risk regions should promote work and production resumption in an orderly manner based on local situations, while high-risk regions should continue to be fully committed to epidemic prevention and control.
Jiangxi Province now places its counties and districts in three risk groups that correspond to different epidemic prevention measures to mitigate the impact on the economy.
Four out of 100 counties and districts in the province were classified as high-risk areas, 18 as medium and the other 78 as low. The risk level can be dynamically adjusted based on epidemic situations.
With no confirmed cases of infection or no new cases reported in 18 consecutive days, a total of 40 low-risk counties and districts, including Shanggao, have lowered their emergency response from Level I to Level II or III on Tuesday.
To push for work resumption, Shanggao County has dispatched more than 170 cadres to help enterprises solve problems involving labor, raw materials, logistics and funds that hamper their business resumption. A total of 156 industrial enterprises above designated size, around 90.7 percent of the total, have returned to work in the county.
Jiangxi is sending more cadres to assist its companies, striving to cover all epidemic control material producers and industrial enterprises above designated size, said Xin Qinghua, deputy head of the provincial department of industry and information technology.
Meanwhile, the province gave business resumption priority to firms upstream of the supply chain, such as those produce basic raw materials.
Nanchang Cemented Carbide LLC is a producer of milling cutters, which are key tools used for manufacturing medical equipment. During the epidemic, the company had difficulties to deliver goods due to transport restrictions.
Nanchang economic and technological development zone, where the company is located, helped find logistics enterprises to deliver the milling cutters with lower transport costs.
"With smooth logistics, we can now speed up our production," said Zhang Yuqi, deputy general manager of the company.