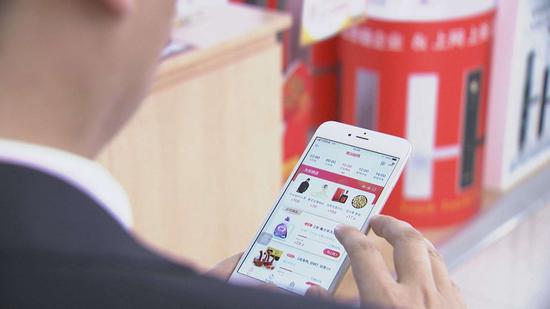 With online shopping now a part of most peoples' lives, concerns remain over a number of issues. /CGTN Photo
China's e-commerce law, which came into effect on January 1, will provide greater protections to consumers and bring efficient regulations to the sector.
The legislative process took years of discussion and preparation.
Chinese consumer Liu Kun told CGTN that she was sometimes deceived by the pictures online because the goods she received looked quite different from what she thought she was buying and she couldn't accept it.
Another consumer, Li Rongzheng, told CGTN that sometimes there are problems with quality when shopping online, but certain sellers try to delay the return-and-exchange process.
The proposal called for tighter regulations in the e-commerce sector. In December 2013, the standing committee of the National People's Congress officially launched legislation concerning e-commerce.
NPC Deputy Wang Tian, who is also the chairman of Better Life Group, told CGTN that in 2019, China's e-commerce market is expected to top one trillion U.S. dollars. They hope both the online and offline sectors can undergo fair supervision.
In August 2018, after four reviews in five years, China's top legislators passed the long awaited e-commerce law.
Wang Tian said they've been debating over the legislation for years. This new law now clearly states that online platforms must shoulder joint liability in counterfeit and IP cases.
E-commerce giant Suning Group says the entire industry will benefit from the new regulations.
Wang Lei, director of public affairs of Suning Commerce Group, told CGTN that as an e-commerce operator, they have a responsibility and willingness to regulate the online business environment. They will fight illegal behaviors and provide more quality goods and services to customers.
New technologies like 5G and artificial intelligence are reshaping the online and retail sectors. Chinese lawmakers are expected to continuously revise and adjust this new law, to better boost fair competition and protect consumer rights.