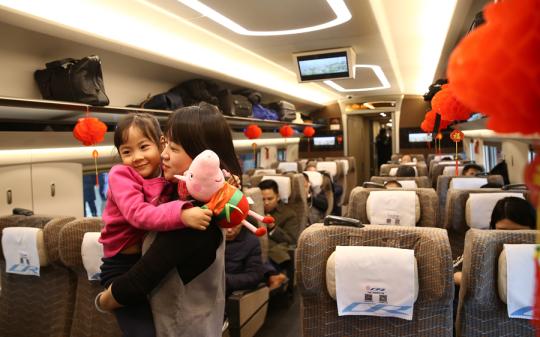 Passengers are seen on the train G4215 on Jan 21, 2019. (Photo by Zou Hong / chinadaily.com.cn)
Ticketless trips helping ease bottlenecks
The world's largest annual human migration-the Spring Festival travel rush-kicked off on Monday, with nearly 3 billion trips expected to be made in the 40 days from Jan 21 to March 1.
On the first day of the rush, railway departments across the country handled an estimated 9 million train trips, according to China Railway Corp, the national railway operator.
In Beijing, some 402,000 train trips were estimated to have been made via the city's three railway stations on Monday, a year-on-year increase of 8.9 percent, according to China Railway Beijing Group Co.
New technologies were introduced this year to increase efficiency during the travel rush. In Guangdong province, some railway stations pioneered ticketless travel.
Passengers wait at Beijing West Railway Station on Jan 21, 2019. (Photo by Zou Hong/chinadaily.com.cn)
Starting Monday, passengers could simply swipe their phones to board the intercity high-speed railway connecting the provincial capital of Guangzhou with the nearby city of Shenzhen.
Huang Xiaozhong, deputy chief of Guangzhou East Railway Station, said passengers can register to pay for travel via Alipay, the payment platform of internet giant Alibaba, and are issued QR codes valid for three hours.
"The QR payment only takes a few minutes, compared with 20 to 30 minutes for passengers to purchase, pick up tickets and enter the station in the traditional way," said Wang Lihui, who is in charge of the station's ticket sales office.
Wang said the new payment method reduces crowding in front of ticket booths.