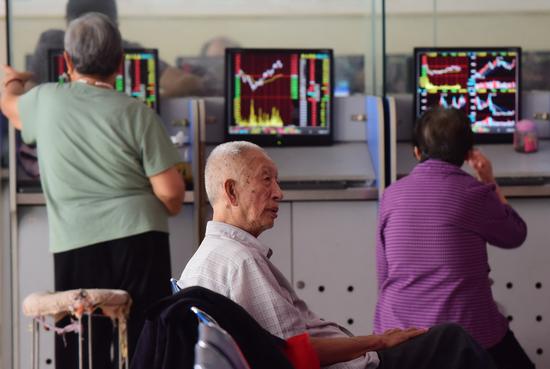 Investors monitor stock prices at a brokerage in Fuyang, Anhui Province. (Photo by Lu Qijian/for China Daily)
London-based index provider set to announce decision soon
The London-based index business FTSE Russell will announce its decision concerning the inclusion of the Chinese mainland's A shares early Thursday morning.
The move comes less than one month after FTSE Russell's New York-based rival MSCI implemented the second stage of its partial inclusion of A shares.
Mark Makepeace, CEO of FTSE Russell, said earlier this month that the weighting for the A shares in its index will "go more than 0.8 percent", which is the weighting used in the MSCI index.
But he added the amount of A shares included will be based on the limits on foreign ownership and trading restrictions imposed by Chinese mainland regulators.
Wei Tao, assistant president of Pacific Securities, estimated that the initial weighting of A shares in the FTSE Russell index will be around 5 percent and rise to 32 percent gradually. As the index has attracted total capital of about $1.5 trillion, the inclusion will bring in at least $500 billion to the A-share market, he said
Zhang Shenfeng, then-assistant-chairman of the China Securities Regulatory Commission, said at a meeting in late August that the commission fully supports A shares' inclusion into the FTSE Russell index and a higher weighting on the MSCI index. That was the second time in a month that the commission had stated its opinion publicly.
In fact, this is now the third time that A shares have applied to be included in the FTSE Russell index. During the last attempt, in 2017, FTSE turned down the application due to the relatively high rate of trading halts on A share bourses. The CSRC immediately amended the trading suspension regulations, introducing stricter punishments.
FTSE Russell is the world's second-largest index service provider. About 40 percent of the world's passive funds that track global and emerging market indexes are based on the FTSE Russell index, while the remainder refers to the MSCI index.
Li Daxiao, chief economist at Shenzhen-based Yingda Securities, said FTSE Russell's offer of a heavier weighting than MSCI will accelerate inflows from overseas.
The A-share market has further opened to the international market this year. The daily quota for the stock connect mechanism between the Chinese mainland and Hong Kong has risen fourfold since May. Overseas individuals meeting certain criteria have been allowed to invest in A shares since Sept 15.
The highly anticipated Shanghai-London stock connect mechanism is likely to start trading by the end of the year.
As the A-share market accelerates its internationalization, northbound capital inflows via the stock connect mechanism with Hong Kong have risen. According to Shanghai-based information provider Wind Info, the monthly capital inflow into the A-share market had reached nearly 6.4 billion yuan ($930 million) by Sept 21, with the total topping over 230 billion yuan so far this year