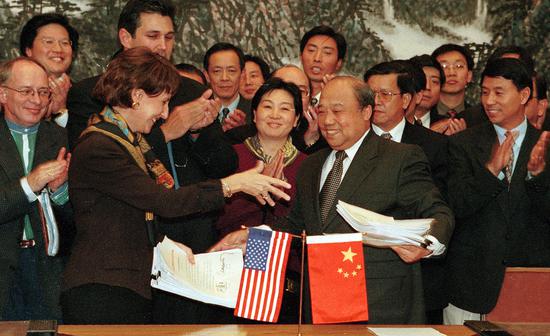 US Trade Representative Charlene Barshefsky (left) exchanges documents with Chinese Trade Minister Shi Guangsheng after signing a landmark agreement in Beijing in November 1999. The deal paved the way for China's entry into the WTO. (Photo by Xu Jingxing/China Daily)
Latest actions viewed as assault on international order
U.S. President Donald Trump's latest move to impose tariffs on a further $200 billion of Chinese imports is seen by many as a major challenge to the rules-based global trade system.
The tariffs come on top of the $50 billion already announced and are clearly an escalation of the trade tensions by the Trump administration.
The new tariffs came into effect on Monday at a rate of 10 percent, and this will be raised to 25 percent on Jan 1.
Beijing responded immediately, slapping tariffs on an additional $60 billion of U.S. products covering 5,207 categories.
Levied at two levels, 10 percent and 5 percent, these tariffs also took effect on Monday.
Trump, who has threatened to pull the U.S. out of the World Trade Organization, which he claims no longer acts in his country's interests, seems intent on disrupting an international order that has been in place since the end of World War II.
The WTO, formerly the General Agreement on Tariffs and Trade, was one of the three pillar institutions to emerge as a result of the Bretton Woods Conference of 1944, alongside the International Monetary Fund and the World Bank (originally the International Bank for Reconstruction and Development).
With Trump's tariffs affecting 2.5 percent of world trade, according to Dutch financial group ING, many now see his actions as a major assault on global commerce.
Meanwhile, China, which played no role in the birth of the existing order and only joined the WTO in 2001, is now seen as one of its strongest defenders. President Xi Jinping has frequently extolled the virtues of globalization, most famously at the World Economic Forum meeting in Davos in January last year.
He Weiwen, a former economic and commercial counsellor at the Chinese consulates in New York and San Francisco at the time of China's accession to the WTO, said Trump's challenge to the WTO order is unprecedented.
"During my time in the U.S. (1997-2003) neither (President Bill) Clinton nor (President) George W. Bush went totally against WTO rules. They were not pursuing an America First policy. Under Bush, there was a case of a steel import surcharge but that was an isolated case," he said.
"The Trump administration has not only challenged China but also the multilateral trade system, launching hostile conflicts against Mexico, Canada, the European Union and others."
China is right to respond to the U.S.' unilateral action with its own tariffs and must steer clear, unlike South Korea, of being intimidated into caving in to trade negotiations, He said.
Power shifting
U.S. Commerce Secretary Wilbur Ross said in March that South Korea would not have made concessions-allowing U.S. automakers greater access to its market and reducing steel exports to the U.S.-if there had not been the threat of tariffs on steel and aluminum exports.
"This goes against the whole system of trade rules. If we all behave like South Korea, then what is the point of the WTO? When its rules are undermined like this, the whole world trade order is in jeopardy."
Paul Cheng, a businessman and former Hong Kong politician and also author of On Equal Terms: Redefining China's Relationship with America and the West, said Trump's actions are indicative of the U.S. now showing the same disrespect for the WTO as it has for countries it has previously backed and then dumped.
"America would support some country and when they didn't want to support it anymore, they would just drop it. Now this is not a country but the WTO. They were a big supporter of the WTO at the beginning, but now the power is shifting, they don't like it. They are no longer calling the shots," he said.
Wang Huiyao, counselor for the State Council, China's Cabinet, and founder and president of the Center for China and Globalization, the Beijing-headquartered independent think tank, said the U.S.' recent trade actions suggest that it is becoming more unilateral while China is becoming increasingly multilateral on the world stage.
"It is not that China cannot see the faults in the current global governance system. There are numerous problems. These include inequalities between rich and poor and multinational companies out of control in terms of jurisdiction. The solution, however, is not to tear everything up."