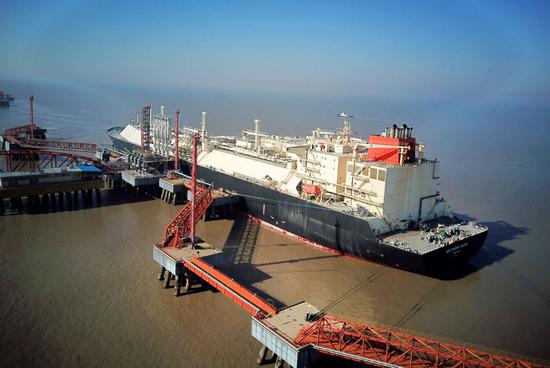 An LNG container ship from Australia docks at Yangkou port of Rudong county, Jiangsu Province, on Jan. 15. (Photo by Xu Congjun/For China Daily)
Beijing's countermeasure against the United States in their trade dispute would hurt U.S. liquefied natural gas exporters while providing opportunities to other LNG-exporting countries, said the Ministry of Commerce.
"The trade war between China and the United States has brought damage to the global value chain and exerted a negative impact on normal trade," Wang Shouwen, vice-minister of commerce, said at a news conference on Tuesday.
"The U.S. can be an important supplier for China's liquefied natural gas, but because Washington has adopted trade restrictions, China is forced to take countermeasures."
China, as a very huge market, is willing to further open up and will give opportunities to LNG suppliers around the globe, he said, adding that Australia is an important source of LNG for China, and the two sides have a large amount of trade with great potential.
Wang made the comments when speaking about a white paper titled The Facts and China's Position on China-U.S. Trade Friction. It was published on Monday to clarify the facts about China-U.S. economic and trade relations, demonstrate China's stance on the trade friction with the U.S., and pursue reasonable solutions.
The White House announced new tariffs on $200 billion worth of Chinese goods beginning on Sept 24, including various aluminum and steel items that had been left out of tariffs imposed in March. China announced countermeasure tariffs in response on $60 billion worth of U.S. imports including a 10 percent tariff on LNG effective the same day.
"A number of export projects vying for long-term off-take contracts are now effectively barred from the Chinese market, which is expected to account for a third of global LNG demand growth over the next five years," said Ross Wyeno of S&P Global Platts Analytics.
"This could give an advantage to non-U.S. suppliers such as Canada, the Middle East and Russia."
Meanwhile, U.S. crude oil exports to China, which reached record levels in June, are safe for now with oil's exclusion from this announcement.
Na Min, a senior analyst for oil and gas at Bloomberg New Energy Finance, said the trade dispute will not dampen China's LNG demand but will affect global LNG trade flows as China can seek alternative sources.
It is reported that PetroChina will stop buying spot U.S. cargoes for this winter if the tariff is imposed, while it has also signed contracts with Papua New Guinea and Qatar in the past few months for deliveries up to 6MMtpa starting soon, she said.