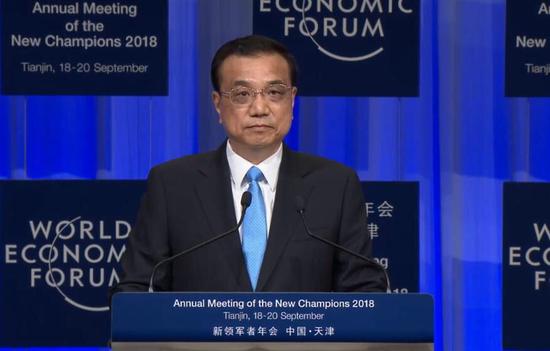 Chinese Premier Li Keqiang delivers a speech at the Summer Davos in North China's Tianjin municipality. (Photo/CGTN)
Special: Summer Davos Forum 2018
China will further open its financial sector, reduce taxes and fees, and better protect intellectual property rights, Premier Li Keqiang told business, financial and think tank leaders during Summer Davos Forum in Tianjin on Thursday.
Li addressed more than 200 representatives from these fields during the Annual Meeting of New Champions 2018, hosted by the World Economic Forum.
Regarding financial opening-up, Li said China is determined to further open its financial sector while maintaining financial stability.
Pre-entry national treatment and the negative list will be carried out in this field while licenses and limitless shareholding stakes will be promoted in an orderly way, he said.
Currently, the banking industry has no limits on shareholding stakes, and the limit will be removed for insurance and securities companies in the future, he said.
On taxes and fees, Li said a massive reduction of taxes and substantial fee cuts, including lower social security rates and personal income taxes, will be completed to ease burdens on enterprises and spur consumption.
Li said a number of measures have been implemented to boost social creativity of all people, giving everyone equal opportunities to innovate and start new businesses.
Meanwhile, foreign entrepreneurs are welcome to join China's innovation-driven development, in which intellectual property rights are the foundation, he said.
China will make stronger endeavors to protect such rights and severely punish violators. Forced transfers of intellectual property rights are prohibited, he said.
On World Trade Organization reforms, Li reiterated that free trade should be safeguarded. The WTO needs necessary reforms, and they should take into consideration the interests of developing countries, especially the least developed nations, he said.
Negotiations and dialogue should be conducted to bring benefits for all, the premier added.