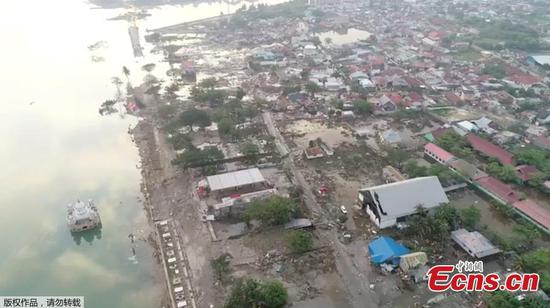 The damage after an earthquake is seen in Palu, Central Sulawesi Province, Indonesia September 29, 2018 in this still image taken from a video obtained from social media. (Photo/Agencies)
At least 420 people were confirmed dead after a series of strong quakes and the following tsunami hit Indonesia's Central Sulawesi province on Friday, local media quoted authorities as saying on Sunday.
Multiple powerful and shallow quakes of 6.0, 7.4 and 6.1 magnitude followed by a tsunami devastated the province with the hardest-hit area in Palu, the provincial capital and Donggala district.
Spokesman of the country's information and communication ministry Ferdinandus Setu said on Saturday that the main airport in the province has been operating but only serving relief efforts.
Communication facilities have also been functioned in several parts of the province.
Photos released by the Indonesian air force and the disaster management agency showed collapsed buildings and bridges, and the injured lying in a yard in front of a hospital to be treated.
Spokesman of the national disaster management agency Sutopo Purwo Nugroho said earlier that survivors and the injured people were in need of aids including fast food, baby food, medicines, tents and blankets. More rescuers and heavy machinery equipment were also needed.
Indonesian President Joko Widodo had ordered the head of the national disaster management agency, national police chief, military commander and related ministries to immediately undertake emergency relief efforts.
Indonesia's military had dispatched personnel and aircraft for the relief efforts, according to the spokesman.
Indonesia is prone to earthquakes as it lies on a vulnerable quake-affected zone called the Pacific Ring of Fire.
The country's Lombok Island was hit by multiple quakes hovering from 6.4 to 7.0 magnitude from late July to August this year, leaving at least 560 people dead.