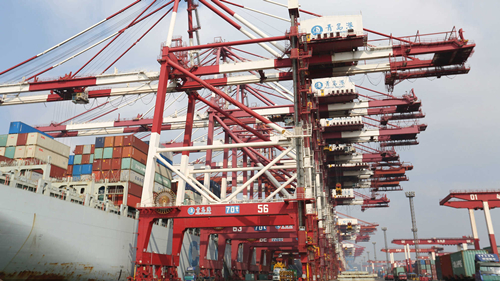 File photo/CGTN
China has filed a World Trade Organization (WTO) complaint against U.S. taxation measures, according to an announcement released by the Chinese Ministry of Commerce on Thursday.
Under Section 301, the U.S. has implemented additional tariffs on 16 billion U.S. dollars' worth of Chinese imports.
By launching the complaint under the WTO dispute settlement mechanism, China is safeguarding free trade and multilateral mechanisms as well as its legitimate rights and interests, a MOFCOM spokesperson said in an online statement earlier Thursday.
By willfully imposing the tariffs on Thursday, the U.S. has obviously violated WTO rules, according to the statement.
"China firmly opposes it and has to once again take necessary countermeasures," it said.
China's tariffs on 16 billion U.S. dollars' worth of U.S. goods took effect at 12:01 p.m. BJT simultaneously with the U.S. initiating additional 25 percent tariffs on a similar amount of Chinese goods at 12:01 a.m. EDT (0401 GMT) on Thursday, according to Customs Tariff Commission of the State Council.