China on Friday unveiled the new sets of additional tariffs on 60 billion U.S. dollars' worth of U.S. goods in response to the U.S. tariff threat of 200 billion U.S. dollars' worth of Chinese imports.
The additional 25 percent tariffs cover the largest share of the overall list and are mainly imposed on vegetables, meat, metals and chemicals, which could bring harm to the U.S. farming and mining industries.
China's tariff list unveiled on June 16 took effect earlier in July, some U.S. food producers have already felt the punch from one of the largest export markets.
The list of 659 additional items, worth 50 billion U.S. dollars and facing a 25 percent tariff, covers a wide range of products, among which agricultural products and foods are in the majority.
Pork variety meat and chicken feet
This July witnessed a bleak pork market in the U.S. as both the spot and futures prices of hogs and the stocks of pork products kept falling.
Affected by the trade frictions, the export of U.S. pork variety meat has decreased by about 33 percent from April to May this year, according to the U.S. Department of Agriculture. Mexico also raised the tax rate on U.S. pork to 20 percent as a way to fight against the U.S. aluminum and steel import tariffs.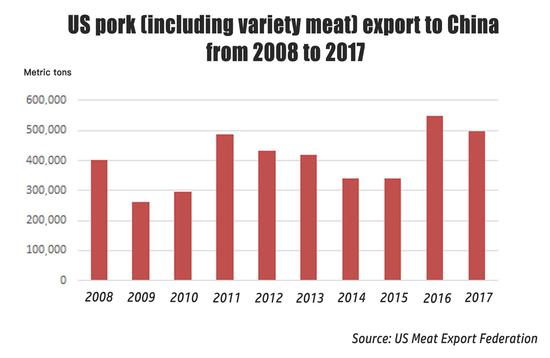 CGTN Photo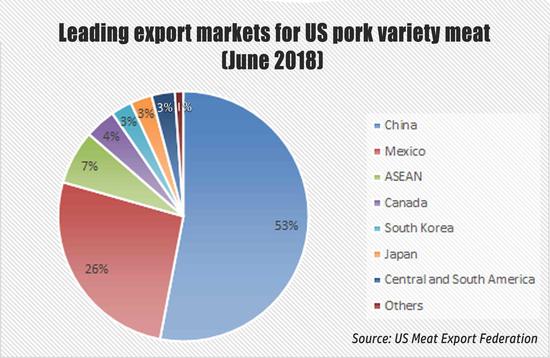 CGTN Photo
Chinese foodies enjoy pork by-products such as pig feet, pig ears and intestines, which are big sellers in the Chinese consumer market.
China has become the largest export destination for U.S. pork variety meat. In June alone this year, China's import of U.S. pork variety meat accounted for 53 percent of all its destination markets, according to the U.S. Meat Export Federation.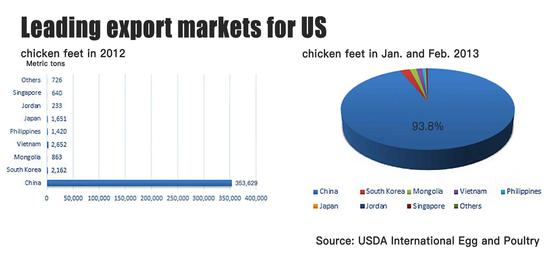 CGTN Photo
Driven by the escalated trade war, China was forced to impose a 25 percent tariff on U.S. agricultural products, forcing the booming pork by-products export business to a halt.
American meat producers like WH Group and Tyson Foods all reported a slump in both profit and stock caused by the trade dispute.
Another Chinese "snack" is chicken feet. China is the largest chicken feet importer of the U.S.. China (Hong Kong and Taiwan are included in the business) imported 353,629 metric tons of chicken feet from the U.S. in 2012, according to the USDA International Egg and Poultry, accounting for 93.8 percent of the total. The U.S. poultry industry is cashing in as a whopping amount of the delicacy ships to China.
However, the snack is also on the list, which surely brings huge losses to the industry as almost no one consumes this part in the U.S. or other countries.
Whiskey
A 25 percent tariff on U.S. whiskies destined for China could halt 8.9 million U.S. dollars in annual whiskey exports and harm both the interests of Chinese consumers and American farmers, according to the Distilled Spirits Council.
In 2017, bourbon whiskey contributed 8.5 billion U.S. dollars to Kentucky, the main producer of whiskey, creating 17,500 jobs. Kentucky winemakers are also increasingly valuing the Chinese market as the growing middle-income population brings greater business opportunities.
In 2017, China's imports of whiskey from the United States increased by 15 percent year on year.
American spirits exports to China have grown by almost 1,200 percent, from 959,000 U.S. dollars in 2001 to 12.8 million U.S. dollars in 2017, according to the Distilled Spirits Council.
Moreover, the U.S. Brewers Association has established cooperative relationships with dealers in first-tier cities in China.
The association this February said that China is a relatively open market as the tariff is only 10 percent, and last December, China lowered the tariff to 5 percent. The tariff hike is the least thing they want to see.
The growing number of Chinese consumers, however, will not be affected because of substitutes from Ireland, Scotland and Japan.