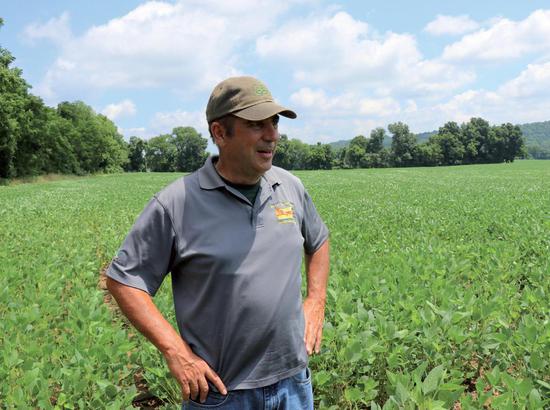 Bill Beam, who farms more than 3,000 acres of corn, soybeans and wheat near Elverson, Pennsylvania, stands in his field. His family has been running the farm since 1950s. (Calvin Zhou / China Daily)
Pork, soybean producers assess levies, aid from government
When Chris Hoffman began raising hogs in McAlisterville in central Pennsylvania 30 years ago, he became part of an agricultural strategy in the United States.
"We have set up our marketing system so that we can feed the world. Now there are tariffs that prevent us from moving the product that we already have on the ground. Tariffs are pricing us out of what other countries can afford," he said.
Hoffman and his fellow hog farmers are facing tariffs from China and Mexico. The dual threat of tariffs comes as Hoffman said there are about 3 percent more live hogs on U.S. farms this summer than there were a year ago.
He said he sells on average about 34,000 hogs a year.
"The number doesn't change much year to year. You have to have reserves to be able to get through this," he said. "Over a period of time, if these trade wars go on too long, it just goes in the wrong direction and you can't stay in business anymore."
Hoffman said he has a "rainy day" fund and that "we continue to try to grow our reserves".
China and other key U.S. trade partners such as Mexico have focused on U.S. farmers with retaliatory tariffs on soybeans and pork, among other products, after U.S. President Donald Trump imposed 25 percent duties on $34 billion worth of Chinese goods as well as tariffs on steel and aluminum from the European Union, Canada and Mexico.
U.S. pork producers were then hit with a second round of Chinese tariffs in response to the U.S. ones. Hoffman said the pork market has traditionally strengthened for him and other producers as spring turned into summer. But not this year.
"Before, we were getting about 68 to 70 cents a pound for hogs," he said. "We have been in the 50 cents-a-pound range, so we are not seeing an increase as we move forward. These tariffs are now preventing us from moving our products."
William Boyd and Bill Beam are Pennsylvania soybean farmers. Beam farms more than 1,200 hectares of corn, soybeans and wheat outside of Philadelphia in southeast Pennsylvania, while Boyd farms more than 200 hectares of corn and soybeans near Mertztown, south of Allentown in the state's Lehigh Valley region.