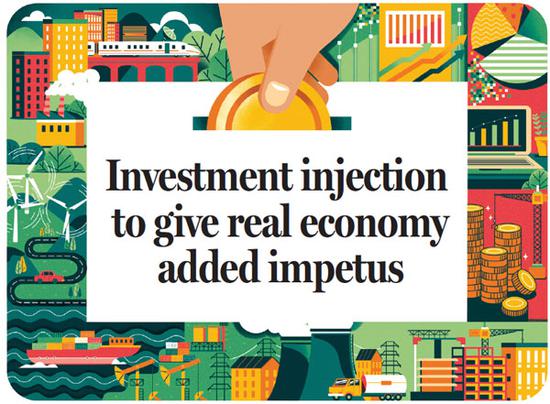 5b5fba09a31031a3f2b5e99e
Demand for capital from projects already underway will be fully met to maintain flow
Multiple measures have been issued by the central government to ease financing difficulties for ongoing projects and boost effective investments, meaning more capital will go to the infrastructure sector and support the real economy in the second half of this year.
Effective investment and stable economic growth were called for at a State Council executive meeting, presided over by Premier Li Keqiang on July 23. The demand for capital for projects that are under construction should be fully met, and local governments should use their fiscal tools to support and encourage financial institutions in ensuring reasonable financing for uncompleted projects and avoid broken capital flow, a statement released after the meeting said.
Meanwhile, a number of projects in fields such as transportation, gasoline and natural gas, and telecommunication, will be promoted to attract private investors. These projects should have clear return prospects and potential.
The moves aimed to boost effective investments and employment, and consolidate China's stable economic growth as credit and fiscal policy seemed tight in the first six months of this year, experts said.
After the meeting, dozens of listed companies, like the Chongqing Road and Bridge Co, went up by the daily limit of 10 percent. These companies focus on infrastructure, steel and iron and cement.
The first half of the year saw the monetary and fiscal policies become tighter than expected, said Zhu Baoliang, chief economist of the State Information Center. One of the two major risks threatening economic growth was the drop in the growth rate of infrastructure investments, he said.
According to the National Bureau of Statistics, China's fixed-asset investment in the first five months went up by 6.1 percent, 0.9 percentage point less than that from January to April. In June, the increase dropped to 6 percent. By comparison, it rose by 8.6 percent in the first six months of 2017.
Meanwhile, new yuan-denominated loans increased to 9.03 trillion yuan ($1.35 trillion) in the first six months of this year, 1.06 trillion yuan more than the same period last year, the People's Bank of China, the central bank, said this month.
M2, a broad measure of money supply that covers cash in circulation and all deposits, went up by 8 percent year-on-year by the end of June, the central bank said. It was a record low of M2 expansion.
Vice-Minister of Finance Liu Wei said more fiscal support will go to aid projects underway and the real economy at a policy briefing hosted by the State Council Information Office on Thursday.
He said the issuing of special bonds of 1.35 trillion yuan for local governments will be accelerated in the second half to bolster infrastructure and key areas.
More than 300 billion yuan of such bonds were issued in the first half and the second half will see another 1 trillion yuan issued, Liu said.
These bonds will focus on projects under construction, he said.
"We stress that ongoing projects should get effectively financed," Liu added.
Jia Kang, chief economist of the China Academy of New Supply-side Economics, said China's GDP grew by 6.8 percent in the first half and the government should focus on expanding domestic demand, effective investments and opening-up in the future. Expansion of effective investment will decrease residential savings and increase consumption, which will in turn boost economic growth, he said.
Zhu said the macro-economy was in good condition in the first half, but corporate credit risks and financing difficulties on local financing platforms showed the tightness of policies.
Slowing growth of M2 and social financing will affect investments in infrastructure and real estate, Zhu said.
The impact will lag six months behind the implementation of monetary policy, and three months for fiscal policy, Zhu said.
The fiscal policy should be more proactive and the monetary policy should be more relaxed in the second half, he said.
Financing for infrastructure projects, including public-private-partnership ones, should be appropriately expanded to raise the growth rate of infrastructure investment, he added.