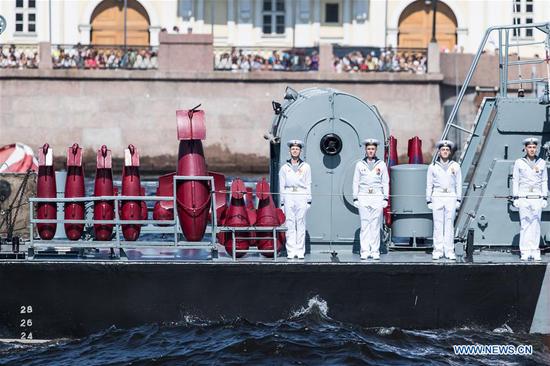 A warship is seen on Main Naval Parade to mark Russian Navy Day in St. Petersburg, Russia on July 29, 2018. The Navy Day is a national holiday in Russia that normally takes place on the last Sunday of July. (Xinhua/Wu Zhuang)
Russia demonstrated its naval might in its second largest city of St. Petersburg on Sunday with a parade of troops, vessels and aircraft on the Neva River.
President Vladimir Putin said his country would continue to develop its navy and improve equipment.
More than 4,000 troops, over 40 military ships and vessels of various classes and naval aircraft from the Baltic, Northern, Black Sea Fleets and the Caspian Flotilla took part in the parade.
Putin announced in a speech afterward that the Russian navy will receive 26 new ships in 2018 and four of them will be armed with the Caliber missile system.
This year's Navy Day parade, an annual event, had been expected to feature the debut of Russia's new stealth frigate, the Admiral Gorshkov.
But the state-run Tass news agency said the Gorshkov and 11 other vessels were too big to sail into the Neva River, where the main part of the parade took place, and that Putin had instead greeted the crews at Kronshtadt, St. Petersburg's seaport, where they anchored in parade formation.
The 4,500-ton warship is the lead ship of six of the type planned to become part of the Russian fleet by 2025, Tass said.
Defense Minister Sergei Shoigu called the new class of frigates the "mainstay" of the Russian fleet for years to come, according to Tass.
Analysts say the Gorshkovclass frigates will be fast and formidable.
"The new frigate is incredibly well armed for such a small warship," Paul Schwartz of the Center for Strategic and International Studies, or CSIS, wrote in a 2016 study, adding the frigate "would add significant combat capability to the fleet".
Other notable ships in Sunday's parade included the brand-new amphibious assault ship Ivan Gren-capable of carrying 13 main battle tanks-the 10,000-ton guided missile cruiser Marshal Ustinov, and the guided-missile submarine Oryol, at 24,000 tons the largest vessel in the parade, according to Tass.
"High combat readiness and effectiveness of the naval forces are the most important component to ensure the country's combat capability and its security," Putin said.
"The Russian fleet successfully resolves the tasks of the country's defense capability, makes a significant contribution to the fight against international terrorism, and plays an important role in ensuring strategic parity."