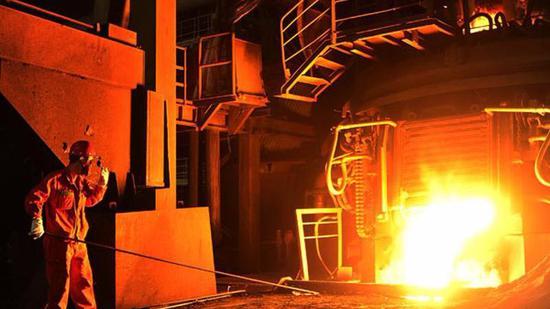 This undated photo shows a worker checking a molten steel at an iron and steel plant in Dalian, Liaoning province. (LIU DEBIN / CHINA DAILY)
Profits of China's centrally-administered state-owned enterprises (SOEs) surged 23 percent from a year earlier in the first half of 2018, official data showed Thursday.
Combined profits of China's central SOEs totaled 887.79 billion yuan (133.1 billion U.S. dollars) in the January-June period, the State-owned Assets Supervision and Administration Commission (SASAC) said.
In June, central SOEs' profits increased 26.4 percent year on year to a historic high of 201.88 billion yuan, according to Peng Huagang, a spokesperson for the SASAC.
The total revenues of central SOEs stood at 13.7 trillion yuan in the first half, up 10.1 percent year on year.