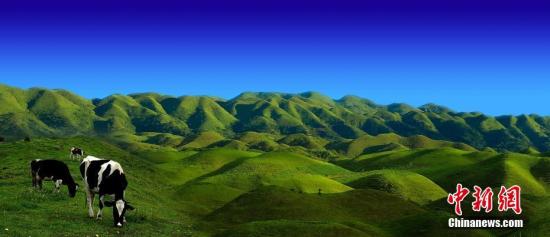 This file photo shows the grassland in the Hunan Nanshan National Park, located in Shaoyang City, central China's Hunan Province. (Photo/China News Service)
(ECNS) -- China plans to establish 60 to 200 national parks, covering approximately six to nine percent of the country's total land area, said Tang Xiaoping, deputy director of the national park management office, at the State Forestry and Grassland Administration on Wednesday.
China has a high threshold for what constitutes a national park, so it's hard to provide exact numbers while research is still underway, Tang said.
This year, China started drafting a series of standards for the creation of national parks and the standards will follow three principles—geographical integrity, representation at the national level, and potential benefits to residents, Tang said.
The country has about 60 to 200 candidate regions that may meet the standards, and about 50 locations will be on a priority list, according to Tang.
Compared with a country such as the United States, China has a large population so it is difficult to find a large natural area without human activities in which to establish a national park. To build the national park system, China will make full use of current natural reserves for integrated administration, said the official.