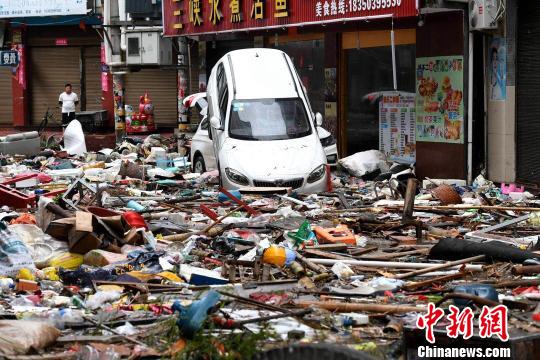 Typhoon Maria wreaked havoc on Xiapu County, Ningde City, East China's Fujian Province. (Photo/China News Service)
(ECNS) - Ningde City in East China's Fujian Province has suffered a direct economic loss of 959 million yuan ($143 million) due to the pounding of Typhoon Maria.
City officials said more than 169,500 people were affected and 70,600 residents had to be evacuated due to heavy rains and strong winds brought by the storm.
Some 169,680 mu (11,321 hectares) of agricultural land was affected in Ningde, including 17,840 mu totally demolished, with the agricultural loss valued at 698 million yuan. Data also shows 184 enterprises suspended production, many roads were cut off and power supplies interrupted, resulting in an industrial loss of 8.76 million yuan.
The natural disaster also damaged the city's water conservancy facilities as well as private homes and schools.