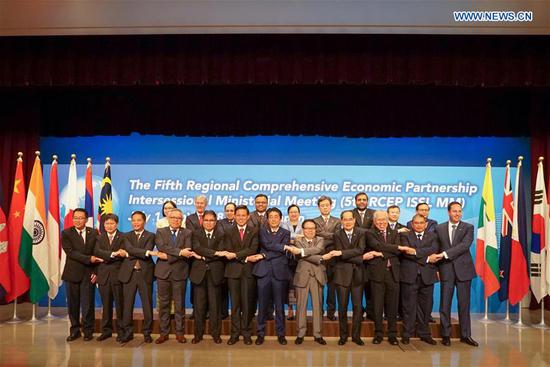 Trade ministers and representatives pose for group photos in Tokyo, Japan, July 1, 2018. (Xinhua)
Trade ministers and representatives from 16 Asia-Pacific countries have agreed to seek an early conclusion of the Regional Comprehensive Economic Partnership (RCEP) deal at their fifth intersessional ministerial meeting that wrapped up on Sunday.
During the two-day meeting, trade representatives from China, Australia, India, Japan, South Korea, New Zealand and the Association of Southeast Asian Nations (ASEAN), had in-depth discussions on issues such as trade, service, investment and rules at the meeting.
A joint media statement was released after the meeting, which recognized the importance of swiftly and successfully concluding the RCEP negotiations in view of the current global trade environment which faces serious risks from unilateral trade actions and reactions.
Participants of the meeting reaffirmed their resolve to work together and see through the RCEP negotiations towards conclusion, and to achieve an agreement that will benefit all sides.
They welcomed the progress made by the negotiators across all areas and tasked negotiators to focus efforts towards achieving a package of year-end outcomes.
Vice minister of China's Ministry of Commerce Wang Shouwen attended the meeting with officials from Chinese National Development and Reform Commission, Ministry of Industry and Information Technology, Ministry of Finance and General Administration of Customs.
Wang said that the meeting helps providing clear guidance to the negotiations to be held later this year, so as to promote an early conclusion of the RCEP negotiations.
China firmly supports ASEAN's core status during the negotiations, and is willing to continue to play a constructive role in the negotiations, he said.
Wang also held talks with the secretary general of ASEAN and chiefs of some delegations on the sidelines of the meeting.