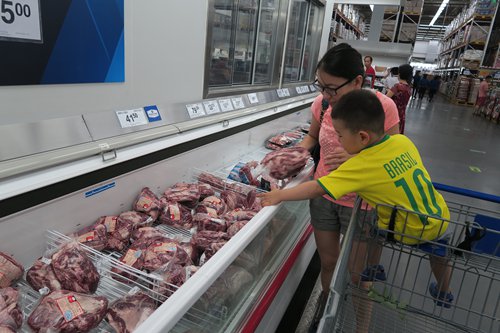 Consumers pick beef products at a supermarket in Beijing on Tuesday. (Photo: Li Hao/GT)
Market share loss will be long-term: expert
China is restarting beef imports from France, a move that might lead to a shrinking slice of the market for U.S. beef amid unstable trade relations between China and the U.S., experts said Tuesday.
China signed an agreement on Monday with France on beef imports, according to a Reuters report, citing an unidentified Chinese official who was announcing the agreement.
According to the official, the deal was about hygiene and inspection requirements for French beef.
"China is the second largest importer of beef in the world…so for us, it is a big market of course. Moreover, China's middle class is 300 million people, which is comparable to the total population of the EU (500 million people), which shows again the potential," Dominique Langlois, chariman of Interbev, representing the entire French cattle and beef production industry, from farm to table, told the Global Times on Tuesday.
According to a Reuters report, China is now the world's second-largest beef importer, taking in almost 700,000 tons of the red meat in 2017, worth about $3.3 billion, with volume up 20 percent year-on-year.
"France is clever enough to try to grab a share of China's beef market amid Sino-U.S. trade tensions," Tian Yun, director of the China Society of Macroeconomics Research Center, told the Global Times on Tuesday, adding that compared with other EU countries that could also get access to the massive Chinese beef market, France is comparatively bigger and is more likely to gain a foothold in the country.
In 2001, China banned beef imports from European countries including France in response to the mad cow disease crisis. The ban was extended to include U.S. beef in 2003, but the U.S. ban was lifted in September 2016.
France is the fourth EU country after Ireland, the Netherlands and Denmark to resume beef imports to China, according to a report from domestic site guancha.com on Tuesday.
"Restarting beef imports from France is also a good opportunity for China to turn to other trade partners, in a bid to limit the negative influence brought by the 'capricious Trump administration,'" said Ma Wenfeng, a senior analyst at Beijing Orient Agribusiness Consultancy, adding that the move is also part of China's countermeasures against the U.S..
Ma told the Global Times on Tuesday that the move is also in line with China's commitment to expanding agricultural imports due to increasing domestic demand for high-quality products, and China is likely to import more agricultural products from various countries "passing the hygiene and inspection standards."
Ma added that China's proposed retaliatory tariffs against a slew of U.S. products including beef will also help the EU gain an advantage in doing businesses with China over the U.S.. He said the China Railway Express, which offers a convenient rail link to Europe, will also help.
 However, Tian noted that the openness cannot just be one-sided. "If we offer to buy more things from France, or the EU in the future, they have to show their offer as well, 'win-win' is the only way to do business between two sides," Tian said.
At a joint press conference held in Beijing on Monday following a high-level economic dialogue, top officials from China and the EU have agreed to firmly oppose unilateralism and protectionism and prevent such practices from impacting the world economy, or possibly dragging the world economy into recession, according to a statement on the official website of Chinese government.
The statement said that the two sides had candid, pragmatic talks and made positive progress on various issues, including a bilateral investment agreement and expansion on the agricultural access.