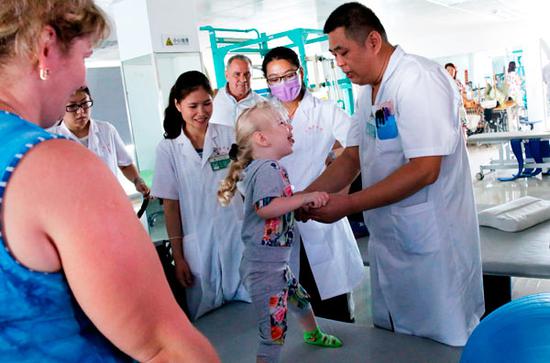 A Russian child with cerebral palsy gets treatment in Sanya Traditional Chinese Medicine Hospital. (Photo provided to China Daily)
Beijing and Xiongan New Area in North China's Hebei province, have been newly added to a list of 15 areas to conduct pilot programs for trade in services, People's Daily reported Wednesday, citing a document approved by the State Council earlier this month.
In addition, the previous pilot region of Harbin New Area will also be expanded to cover the entire city of Harbin and the Jiangbei New Area in Nanjing will also be extended to the whole city of Nanjing.
Xian Guoyi, director of trade in services department at the Ministry of Commerce, said at a news conference that these changes are in line with the country's Beijing-Tianjin-Hebei integration strategy and the plan to revitalize the northeastern region.
He said the pilot program, scheduled to be conducted from July 1, 2018, to June 30, 2020, aims to improve management mechanism, to enlarge opening-up, to foster market participants, to innovate in development models, to facilitate trade, to improve policy systems, to complete statistical system, and to innovate in regulation.
As early as February 2016, the country began to conduct the first round of pilot programs on trade in services in 15 regions - Tianjin, Shanghai, Hainan province, Shenzhen, Hangzhou, Wuhan, Guangzhou, Chengdu, Suzhou, Weihai, Liangjiang New District in Chongqing, Guian New Area in Guizhou, Xixian New Area in Shaanxi province and Harbin New Area and Jiangbei New Area in Nanjing.
Boosted by the pilot, trade in services in 2017 rose to 1.54 trillion yuan, up by 8.9 percent, year-on-year, said Xian. The growth rate was the highest since 2012 and this year was also the first year in which trade in services grew faster than trade in goods, he added. In the same year, export and import of services in pilot areas accounted for 51.9 percent of the national export and import volume, 5 percentage points higher than the ratio prior to the pilot, according to Xian.
Xian said this two-year trial has also resulted in 29 experiences, which can be duplicated in more regions. These experiences include internet plus trade in traditional Chinese medicine services, trade in language service and financial model for documentary pre-sale.