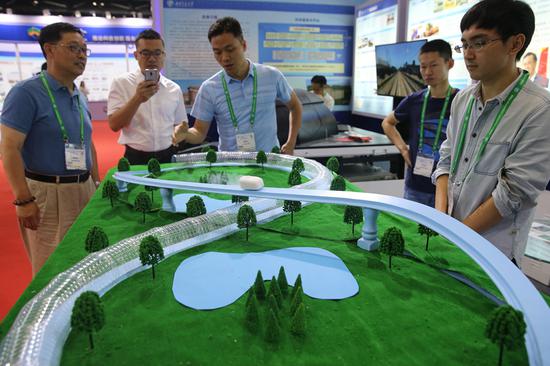 Visitors observe the model of a superconducting tube maglev at the 2018 World Transport Convention in Beijing, June 19, 2018. (Photo/China Daily)
(ECNS) -- Chinese researchers are conducting a feasibility study of an ultra-fast train capable of traveling 1,500 kilometers per hour, a professor from Southwest Jiaotong University said at the 2018 World Transport Conference on Tuesday.
A proposed 1.5-kilometer-long vacuum tube will be used to test magnetic train models under different low air pressures, according to Zhang Weihua.
The professor said the simulation platform at Southwest Jiaotong University was set to gain state approval in September and then a further 31 months would be needed to complete construction, making April 2021 the earliest the train could be tested.
"The test speed exceeds the speed of sound and theoretically it is expected to reach a speed of 1,500 kilometers per hour," said Zhang.
As of the end of 2017, China's operating high-speed railways stretched more than 25,000 kilometers, accounting for approximately two-thirds of the world's total operating mileage. The country's fast trains have a designed speed of up to 380 kilometers per hour.
In November 2016, China kicked off a project to develop new bullet trains with a speed of up to 400 kilometers per hour. Zhang said the speed limit for the tracks is 600 kilometers per hour, so high-speed magnetic trains will become the main direction for future technology development.
Zhang also said a test line for the world's fastest prototype maglev train is currently under development in Chengdu and that construction is expected to be completed before the end of the year.
The specially made low-pressure tube is 140 meters long and has a diameter of 4.2 meters. It is designed to test prototype maglev trains at 400 kilometers per hour, according to Zhang.
Meanwhile, Hyperloop One, a Los Angeles-based company, aims to transport passengers through a low-pressure tube at speeds of up to 1,207 kilometers per hour.