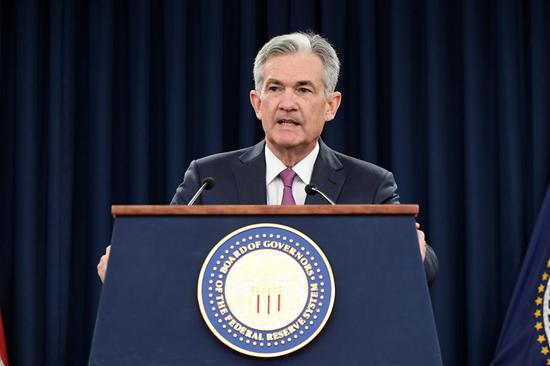 U.S. Federal Reserve Chairman Jerome Powell speaks during a news conference in Washington D.C., the United States, on June 13, 2018. The U.S. Federal Reserve on Wednesday raised short-term interest rates by a quarter of a percentage point, its second rate hike this year. (Xinhua/Yang Chenglin)
The U.S. Federal Reserve on Wednesday raised short-term interest rates by a quarter of a percentage point, its second rate hike this year and the seventh since late 2015.
"In view of realized and expected labor market conditions and inflation, the (Federal Open Market) Committee decided to raise the target range for the federal funds rate to 1-3/4 to 2 percent," the central bank said in a statement after concluding a two-day meeting.
The Fed said the U.S. labor market has "continued to strengthen" and economic activity has been "rising at a solid rate", with household spending picking up and business fixed investment growing strongly.
The Fed also said both overall inflation and so-called core inflation for items other than food and energy "have moved close to 2 percent", suggesting that Fed officials are getting increasingly confident about inflation to reach its 2-percent target.
In its latest forecast released on Wednesday, the central bank expected the U.S. economy to grow at 2.8 percent this year, a little higher than 2.7 percent estimated in March. The U.S. unemployment rate is expected to drop to 3.6 percent by the end of the year, lower than 3.8 percent previously estimated.
Solid economic growth and tumbling unemployment are likely to keep the Fed on a steady path toward tightening monetary policy to prevent the U.S. economy from overheating, analysts said.
Fed officials envisioned four rate hikes this year, up from three estimated in March, according to the median forecast for the federal funds rate. Fed policymakers also penciled three rate increases in 2019 and one in 2020.
Fed Chairman Jerome Powell believed that a gradual pace of interest rate hikes remains the appropriate path for the central bank to sustain economic expansion.
"We continued to believe that a gradual approach for increasing the federal funds rate will best promote a sustained expansion of economic activity, strong labor market conditions, and inflation near our symmetric two percent goal," Powell said Wednesday at a press conference.
"We are aware that raising rates too slowly might raise the risk that monetary policy would need to tighten abruptly down the road in response to an unexpectedly sharp increase in inflation or financial excesses, jeopardizing the economic expansion," he argued, adding the U.S. economy could weaken and inflation could continue to run persistently below the 2-percent target if the central bank raises interest rates too rapidly.
Wednesday's announcement marked the Fed's seventh rate hike of this tightening cycle beginning December 2015 and the second move under Powell, who took the helm of the central bank in February.
About 84 percent of economists polled by The Wall Street Journal earlier this month estimated that the Fed would raise interest rates again at its September policy meeting.