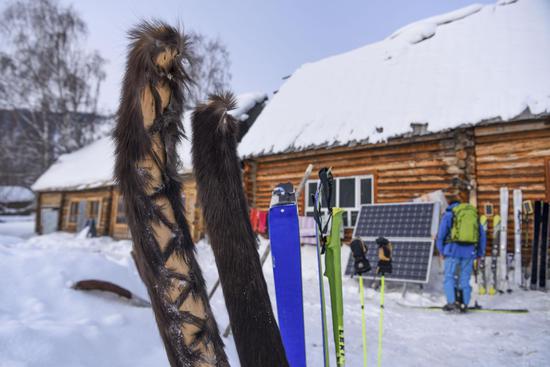 Skiers place their snowboards outdoors before taking a rest. (Xinhua/Hu Huhu)
When Bruno arrived in northwest China's Xinjiang with his modern, sleek snowsports equipment, he didn't expect to become amazed by local villagers' ancient fur skis.
Fur skis, made of pine wood and horsehide, have a long history dating back more than 12,000 years.
The graining of the horsehide on such skis provides friction to help skiers climb mountains while enabling them to still glide smoothly downhill.
One of Bruno's 10 fellow ski lovers has seen fur skis and snowboards in Siberia, which makes him wonder whether Xinjiang and Siberian ancestors exchanged traditions at some point in history.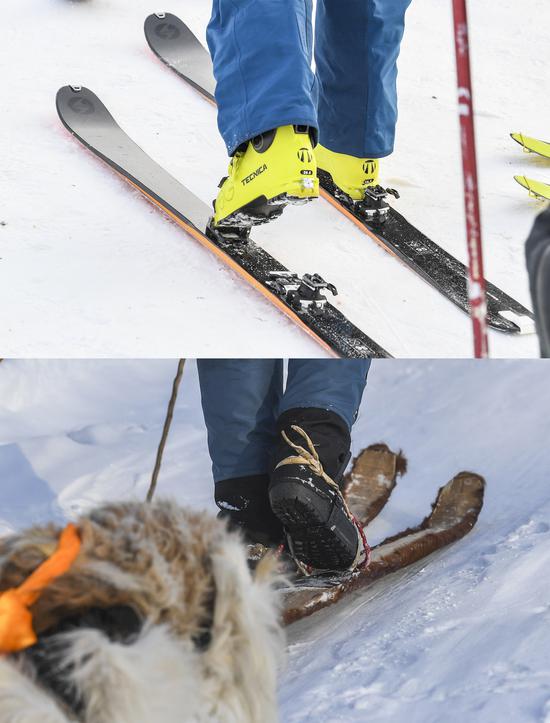 Modern skis (above) and traditional fur skis (below). (Xinhua/Hu Huhu)
Bruno, a 59-year-old French man, has been skiing for decades. He and his fellows have set down their skis in more than 20 countries and regions.
But this was the first time Bruno and his team had skied in China. They stayed in Hemu, a village in Xinjiang, for 10 days for their winter holiday.
Skiing for more than two decades, most of them came from France and Switzerland, with the powder snow in Hemu attracting them to China.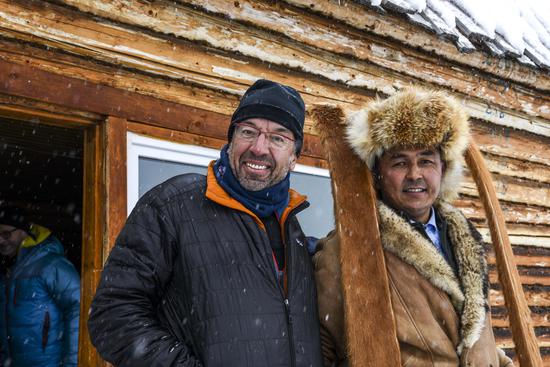 Bruno (left) and Mirbek (right) holding a pair of ancient fur skis. (Xinhua/Hu Huhu)
For these experienced ski lovers on modern skis, such ancient fur skis gave them a glimpse of the wisdom of local ancestors.
Nowadays, despite the world adopting modern snowsports equipment, villagers in Hemu still use fur skis to preserve traditions.
Hemu is a very interesting place and it's fantastic skiing here, said Bruno.
He believes it will become a popular destination among ski lovers in the future due to its stunning landscapes and good snow quality.