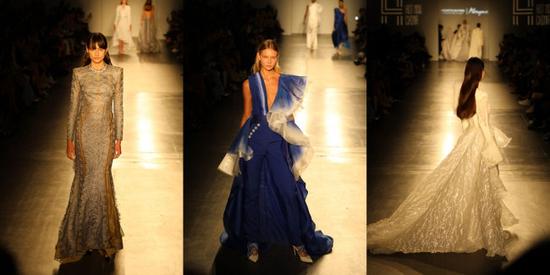 Chinese model and owner of the Maryma brand Ma Yanli stages her "Yun show" collection. (Photo via China Plus)
The Maryma brand by Chinese designer Ma Yanli staged its "Yun show" collection on Sunday at the "Hot Now China Night" of the New York Fashion Week (NYFW) on Sunday.
It is the first runway fashion show under the Hot Now China, a collaborative effort between China Fashion Association, Tencent News and Global Fashion Industry Academy, which features a curated group of five Chinese designers and aims at bringing Chinese fashion design into the global mainstream.
On Sunday night, Hot Now China presented two parts of the fascinating show of China style, showcasing an all-inclusive and multi-element comprehensive trend of China design.
"New York is a passionate and multicultural international city, as well, NYFW has its own dynamic fashion trend uniqueness," said Yi Haiyan, general manager of Tencent Regional Business Group.
Meanwhile, the 2018 International Select Fashion Award, established in 2017 by Tencent, presented seven annual awards on the same night, to help the industry leaders explore commercial possibilities and give China's fashion more exposure.
Held in February and September of each year, the NYFW is a semi-annual series of events. It is one of the four major fashion weeks in the world, collectively known as the "Big Four," along with those in Paris, London and Milan.
One day before the show, Chinese fashion brand Jasmine, created by designer Jane Qin, also presented its 2019 collection on Saturday night.
A number of celebrities attended the show, and media darling Paris Hilton gave thumbs up to the Chinese brand, saying that the designing is "beautiful, colorful and elegant."
"This global fashion brand, using environment-friendly materials, mixes perfectly with the best craftsmanship of East and West," she said.
Qin studied fashion design at Parsons School of Design and Jewelry Design in Geological Institute of America in New York. She also studied at Yale School of Art and Cornell University for her postgraduate.
Her brand, based in New York, also has studios and stores in Beijing, Shanghai, Guangzhou, and is expected to expand to London and Melbourne.
Thrilled by the warm response of the audience on Saturday, Qin told reporters that she has been trying her utmost to use organic cotton, natural fiber and recycled materials in fashion designing and making.
"My fashion philosophy best reflects the current mode of life that people are yearning for – close to nature and energy-saving," she said.
Many Chinese brands have walked the runway during NYFW, with a number of young designers such as Jane Qin, Lan Yu, Vivienne Hu and Angel Chen. Some of the clothing brands have also made their global debut, including Bosideng, JNBY and Senir.
(With inputs from Xinhua)