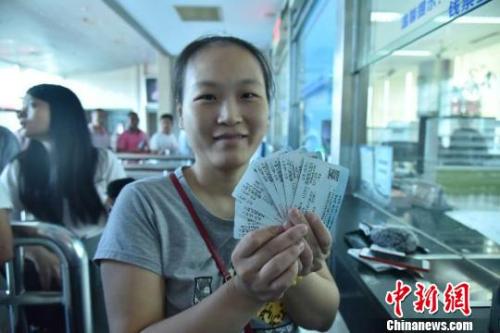 A woman from Fuzhou, Fujian Province, shows tickets for the Guangzhou-Shenzhen-Hong Kong Express Rail Link, Sept. 10, 2018. (Photo/China News Service)
(ECNS) -- There are valid reasons for fare differences on the Guangzhou-Shenzhen-Hong Kong Express Rail Link, which will start service on Sept. 23, experts said.
The 26-kilometer Hong Kong section runs from a station in West Kowloon, heading north to the Shenzhen/Hong Kong Boundary, where it connects with the mainland section.
Some passengers found that fares for the Hong Kong section were higher than those on the mainland. A second-class fare from West Kowloon station to Futian Station in Shenzhen City, a distance of approximately 20 kilometers, is 68 yuan ($9.9). In comparison, the 100-kilometer journey from Futian Station to Guangzhou South Railway Station costs 82 yuan.
Authorities said the fare differences are mainly due to comprehensive consideration of the railway construction and maintenance costs, passenger traffic, and the consumption level of residents.
In addition, the operators of the high-speed railway network implement preferential fares for some trains, and fares will also float according to actual market conditions. For example, a second-class fare from Guangzhou South Railway Station to West Kowloon will range in price from 215 yuan to 187 yuan.