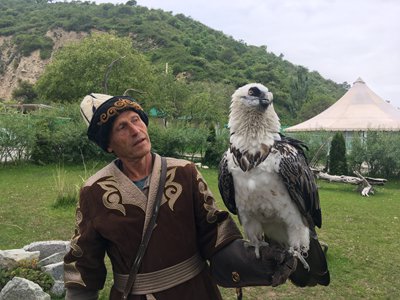 A breeder introduces his saker falcon during a demonstration at the Sunkar Falconry Center in Almaty, Kazakhstan. (Photo: Chen Rui/GT)
Special: Belt and Road Five Years
Kazakhstan has increasingly opened to the world since the Belt and Road initiative was proposed in 2013 by Chinese President Xi Jinping during a visit to the capital of Astana.
Although tourism is not a pillar of Kazakhstan's economy, investment from China and other countries has recently helped bring tourists to the country.
Increased direct flights and relaxed visa rules are some of the changes that have been implemented to further attract tourists to the country, said Roman Vassilenko, deputy minister of Foreign Affairs of Kazakhstan.
Traveling in the world's ninth-largest country offers a unique mixture of both Asian and European cultures that should not be missed.
Cuisine
Recently, my friends and I went on a trip to the country, during which time we were fortunate enough to enjoy a traditional Kazakh dinner, which our host kicked off with a cryptic toast.
"Our honorable guests will take the eyes, meaning that you will always keep an eye on our country," said the host Satybaldy.
He was not speaking figuratively. Sheep eyes are a delicacy in Kazakhstan. As a Chinese, I'm not put off by the thought of eating a sheep head, eyeballs were something new for me. It had a rubbery texture, but with a surprising savory mutton flavor.
Another unexpected part of our meal was camel's milk. Besides its oil fields, the country's Mangistau region is also known for camel ranching. As such a drive through the area is filled with opportunities to see camels grazing.
"We leave camels in the grassy areas of the Gobi to graze. A week later, we come and get them back," said Zhibek, our guide during a visit to the region's city of Aktau.
The camels do not run away, but sheep are a different story, Zhibek explained. Farmers lead sheep to the grasslands in the morning and retrieve them in the evening, she noted.
Horse meat is also popular in the country. In particular, Qazy, which is a horse-meat sausage that is served boiled, smoked, dried as well as other ways.
However, the most famous of Kazakh delicacies is sturgeon caviar, which is popular among tourists to Aktau, said Karimbayev Abdikarim, assistant director of fishery Kazakh Osseter.
The Caspian Sea is the home base for the country's lucrative sturgeon farming industry. Caviar sells for $700 a kilogram locally and much more overseas. Sturgeon meat, however, sells for $8 per kilogram. It has very few bones, which makes it great for people who enjoy eating fish but hate spending time picking out fish bones.