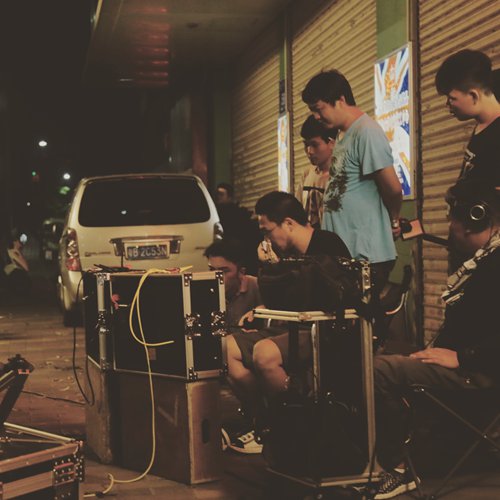 The production team for It's Just a Breakup (Photo/Courtesy of Wang Zijun)
Online mini dramas China's newest trend
Three minutes - The time it takes to eat an apple, drink a cup of tea or listen to a song. Such a short period of time is becoming the perfect slot for young Chinese to watch an episode of what is being called a Wei Ju, or mini drama.
Right after First Times Actually, a mini drama that consisted of eight two-minute episodes, rose to popularity in April on short video platform Tik Tok, or Douyin as it is called in Chinese, another mini drama It's Just a Breakup went viral online. The show has more than 1.2 million followers on Douyin and a high rating of 8.1/10 on Chinese media review site Douban. The short video app, one of the best-received applications this year, has become more than a platform for young people to show off and have fun by opening the door on a new path for entertainment.
Fast-paced lifestyle
"I never thought I would binge-watch films and dramas on Douyin one day, but it turns out the experience is so good," said Wang Dan, a 25-year-old fan of It's Just a Breakup.
Wang started following the mini drama after her friend recommended it to her and quickly became addicted.
The mini drama tells the story of a young couple in Shenzhen, Guangdong Province. The man uses a magical toilet to travel through time and prevent his fiancé from getting in a car accident. Numerous plot twists follow and keep the audience drawn in until the show reaches an unexpected conclusion.
"The story is jam packed, so never feel bored when watching these types of dramas. More importantly, it saves you time," said Wang, who stopped watching domestic TV series three years ago because she couldn't stand the slow pace of emotional dramas. As someone living in fast-paced Beijing, Wang said that the stretched-out and simple storylines of traditional dramas are alienating viewers among China's younger generation like herself.
Wang's opinion is echoed by many netizens on Douban.
"I think people my age or younger care more about quality and efficiency when it comes to entertainment consumption. Mini dramas are the perfect fit for the short fragments of time that you have when taking the metro or going to the toilet," said Wang.
Additionally, young audiences care more about the story in these mini dramas than whether or not these shows have big name stars, according to Wang and a 28-year-old fan surnamed Li.
"It's only two or three minutes anyway and what I want out of it is a really good story. When it comes to normal movies we watch on TV or in cinemas, I am definitely more picky and pay attention to things like the stars, visual effects, how famous the director is and other things," Li said.
Keeping audiences' attention
However, that doesn't mean that quality doesn't matter. According to Wang Zijun, director of It's Just a Breakup, the short nature of mini dramas does not make their production any easier.
"The key is to keep the storytelling compete and to find the right rhythm within the show's limited duration that appeals to audiences," Wang said.
Compared to regular movies, mini dramas tend to have a smaller number of characters, simpler character relationships and themes that are closer to people's daily lives.
According to Wang, most viewers are between the ages of 15 to 30 and have less patience for online video productions due to the rapid pace of their lives and the large amount of choices they have when choosing entertainment products. These factors are what make mini dramas so popular among young viewers.
"You need to keep attracting their attention. If the story slows down, they might just turn off the show," Wang explained, stressing that pop culture elements such as Internet game slang can be used to fit the tastes of younger audiences.
Despite the difficulties involved, mini dramas are opening up a new window for professionals in the industry. With their smaller budgets and shortened production times, mini drams give smaller film studios and young directors the opportunity to create cinematic works.
According to Han Qihui - CEO of Shenzhen God View, the start-up that produced It's Just a Breakup - investors quickly took notice of It's Just a Breakup's success and that a sequel is being planned.
He thinks the "traditional pyramid" in the film industry where top film studios and major video platforms stand above small independent film companies might change one day as film production and circulation becomes more diverse.
"It's a new thing and the market is re-defining and re-categorizing this type of work. I believe that it won't be long before a tidal wave of production and competition strikes," Han explained.