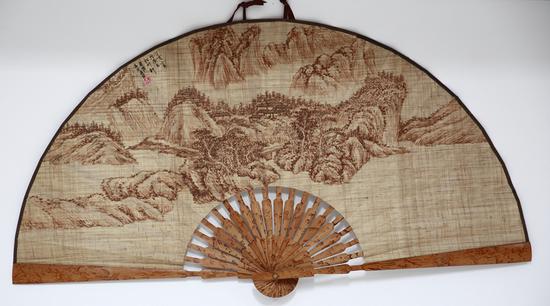 A traditional Rongchang folding fan made of local ramie fabric. (Photo/China Today)
There are many anecdotes and tales about Chinese fans in historical records, novels, and legends. Some notable ones are the goose-feather fan held by Zhuge Liang, a famous military strategist during the Three Kingdoms Period (220-280), and the banana leaf fan that belongs to Princess Iron Fan, a fictional character from the classic novel Journey to the West. In many ancient paintings, most alluring beauties can be seen holding a circular fan in their hands. These examples reflect the cultural significance of Chinese fans. Even today, many people prefer holding a fan while wearing traditional Chinese clothes as a decoration. Over millennia, Chinese fans have evolved from an accessory for daily use to an artifact that incorporates the essence of various forms of arts and crafts, as well as folk culture.
The Fan Culture
Fans are popular among all segments of the Chinese people, from emperors and men of letters to ordinary people. Different kinds of fans served as indicators of status. For example, men of letters preferred folding fans; military strategists and Taoist priests preferred feather fans; girls of noble families liked circular fans while ordinary people usually used palm leaf fans.
The reason fans evolved from an accessory to an artwork is largely related to men of letters, who liked to use fans as canvases for artwork or for writing poetry, and presented them to their friends as a commemorative item. Therefore, they pursued better decoration of fans, eventually leading to fans emerging as artwork that combined various forms of arts such as poems, calligraphy, painting, engraving, and embroidery.
It has been popular to draw fans or write poems about fans, and paint or write on paper fans. There is a story about Wang Xizhi (303-361), who is best known for his mastery of Chinese calligraphy. He is regarded as one of the greatest Chinese calligraphers in history and his works have exerted a far-reaching influence on future generations. However, it is a pity his works were lost and only the replicas in the Tang Dynasty (618-907) have been preserved till today. It is said that once Wang saw an elderly lady selling fans. As it was the end of the summer, business was not so good. She looked very upset, so Wang decided to help her. He wrote a few characters on each fan and told the old woman to raise the price. On seeing calligraphy by Wang on those fans, people all competed to buy them, which then sold out very quickly.
It has been popular to paint on fans since the Tang Dynasty, and it became even more popular during the Song and Yuan dynasties (960-1368). Artwork on fans is also a unique genre of Chinese painting. As space is limited, the painters need to pay close attention to the composition in the half-circle fan, so the creation of elegant and unique imagery or scenery requires extra skill and precision.
For thousands of years, the Chinese people never stopped innovating fan design and manufacturing, adopting different materials such as bamboo, palm tree leaves, wood, paper, feather, silk, bone, and sandalwood, and made fans of various shapes, such as circular, square, oval, flower petals, or hexagonal shapes.
Today, most people use electric fans and air conditioners for cooling, but in many places, especially among the elderly, still see a preference for traditional fans. Serenity comes to mind when picturing a golden hued summer evening as mothers fan their infants with the sounds of children running around echoing in the streets and women brandishing their fans in elegant dances in the public square.