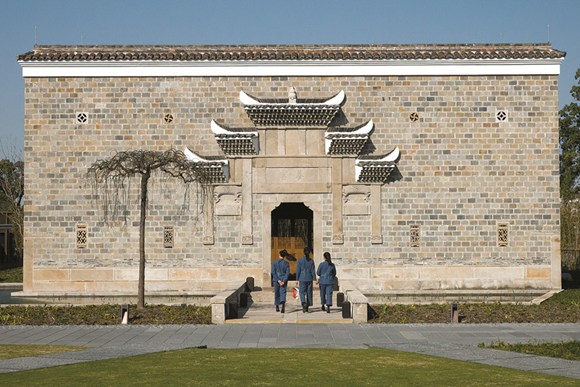 Amanyangyun Shanghai features old houses and trees transplanted from Jiangxi province. The hotel has the most expensive rooms in China, ranging from $950 to $12,700 per night. (PHOTOS BY GAO ERQIANG / CHINA DAILY)
Traditional Chinese homes are quickly vanishing from the landscape as China's drive toward modernity gains pace, and experts say that everyone has a role to play in ensuring that heritage architectures do not go extinct
For most people, the Chinese New Year is a period of family reunion and feasting. For Ma Dadong, the New Year of 2002 had another signifi - cance - it was life-changing.
During his holiday back home in Jiangxi province, Ma - he was then living and working in Shanghai - learned from the locals that the authorities were planning to build a 15-square-kilometer reservoir in vicinity of the village where he was born in order to prevent fl ooding and generate electricity. The project would involve cutting down thousands of ancient camphor trees and removing hundreds of traditional residences.
"In Shanghai, buildings that date back to a century are listed as historical artifacts. These trees and houses that were about to disappear were much older than that," said Ma in a Discovery Channel documentary about him.
Such was his determination to preserve this piece of heritage that he sold his advertising agency in 2002 in order to fund the project to relocate some 10,000 trees and 50 houses from Jiangxi to Shanghai.
Along the way, Ma discovered that many people were chucking away their silkwood furniture when their old houses were demolished. He then decided to recycle these discarded products and manufacture furniture using recycled silkwood. The profi ts from this secondary business has since been used to support his main goal.