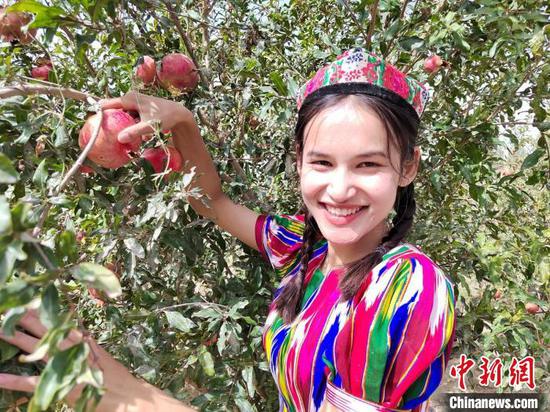 Villagers are picking pomegranates in Qira County. (Photo/China News Service)
Special: Xinjiang
(ECNS) -- Pomegranates in Hotan, southern Xinjiang Uyghur Autonomous Region have seen a bumper harvest.
Located at the foot of Kunlun Mountain, Piyalma Township in Pishan County and Qira Township in Qira County are famous for their agate-like red pomegranates.
This year, Pialema Township is expected to harvest 14,700 tons of pomegranates, said staff from the local agricultural and rural bureau. The price of pomegranates this year is about 0.2 yuan ($0.028)higher than the average acquisition price.
"Our village grew 163 hectares of pomegranates this year, with the average revenue reaching 9000-10,000 yuan per person," said an official in Qira Township.
"I planted 20 mu of pomegranates this year, and thanks to scientific planting methods, it is estimated to yield about 12 tons," said local farmer Mehmet Abdullah Totheiman.
Known as the "Hometown of Pomegranates", Pialema Township enjoys abundant soil and sunlight. Nowadays, the planting area of pomegranates has reached 1,600 hectares, and there are more than 400 planting technique demonstration households.
Pomegranates have become a ready source of money for local villagers.