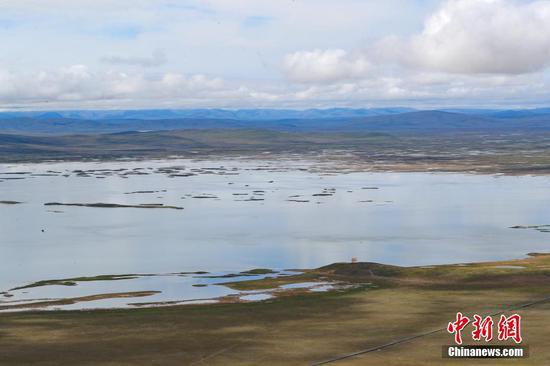 Photo shows the Sanjiangyuan National Park in northwest China's Qinghai Province. (Photo/China News Service)
(ECNS) -- China's first five national parks have recorded initial progress in promoting ecological protection on their first anniversary.
Wildlife populations increased greatly in Sanjiangyuan National Park as the source areas of the Yangtze, Yellow, and Lancang rivers are included in its protection area.
At present, the comprehensive vegetation coverage rate of the grassland in Sanjiangyuan National Park exceeds 60 percent, 5 percent higher than that in 2015, and the wetland vegetation coverage rate stands at 66 percent, with 70,000 Tibetan antelope, 60,000 Tibetan gazelle and 36,000 Tibetan wild asses inhabiting the area.
A total of 73 Protected Natural Areas in Sichuan, Shaanxi and Gansu provinces joined together to create the Giant Panda National Park, connecting the fragmented habitats and allowing 72 percent of wild giant pandas to be well protected.
More than 8,000 species of wild animals and plants including the snow leopard, golden snub-nosed monkey, dove tree, and Chinese yew have benefited from the Giant Panda National Park.
Siberian Tiger National Park of northeast China's Jilin and Heilongjiang provinces has unblocked the migration corridors for wild animals, driving the populations of Siberian tiger and Amur leopard to over 50 and 60 respectively.
Besides, the survival rate of wild Siberian tiger cubs has grown to over 50 percent compared with 33 percent before the national parks were established.
Another three new Hainan gibbons have been reported in Hainan Tropical Rainforest National Park on south China's Hainan Island, bringing wild populations of the species to five, with 36 individuals as ecological functions gradually resume here.
Wuyishan National Park, spanning east China's Fujian and Jiangxi provinces, has found 14 new species in three years.
The nation's first five national parks spanning 10 provinces and regions were established in October 2021 and cover 230,000 square meters.
About 30 percent of wildlife species living on land under national protection are being preserved in these parks.