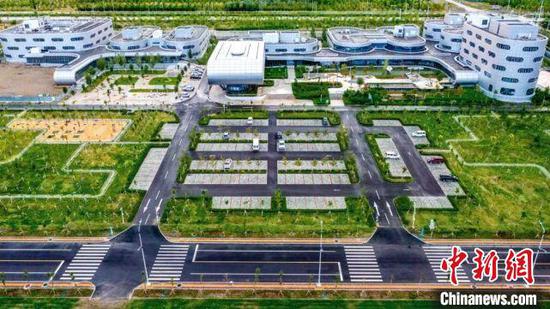 The Karamay Cloud Computing Industrial Park (Photo: China News Service/ Min Yong)
Special: Xinjiang
(ECNS) -- The Karamay Cloud Computing Industrial Park has built five data centers in Karamay, northwest China's Xinjiang Uyghur Autonomous Region, greatly improving the city's industrial digitalization, which is a driving force for the upgrading of its economy.
Four data centers here have gone operational, namely, Huawei Cloud Service Data Center, China Petroleum (Karamay) Center, China Mobile (Xinjiang) Data Center, and Xinjiang Information System Disaster Preparedness Center.
Karamay carbon neutral liquid cooling data center, the fifth data center, has been in trial operation for several months and is expected to be officially put into operation in the second half of this year.
The China Mobile (Xinjiang) Data Center has become the largest single-scale film and television animation rendering base in the country, with a total of 11,000 rendering nodes deployed, accounting for 70 percent of the country's total rendering computing power. The base has participated in the rendering of more than 3,000 films and animation works including The Avengers.
Karamay has also built a cloud platform for small and medium enterprises. Up to now, the platform has hosted more than 100 cloud products and provided cloud services for 2,236 enterprises, effectively reducing costs and improving efficiency for enterprises.
More than 90 percent of petrochemical production enterprises in the city have applied process control systems or distributed control systems, and they have basically achieved automatic control in the production process.
The deep integration of the digital economy and the real economy in Karamay has improved production efficiency and production modes, which has become an important driving force for the upgrading of the city's economy, said insiders.