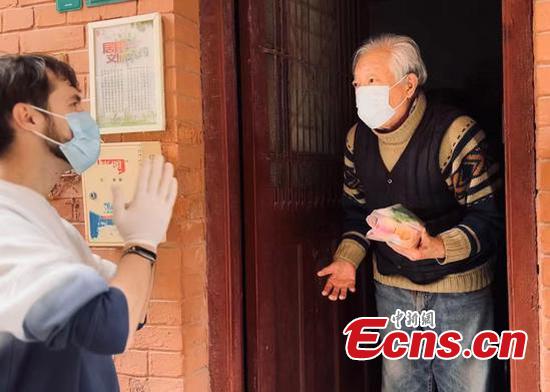 Evgeniy Matveev (L) hands cookies and candies to the elders (Provided by the interviewee)
(ECNS)SHANGHAI--Evgeniy Matveev has spent more than half of his life in China. The 30-year-old Russian expat, who currently works in Shanghai, moved to the country at the age of 14, along with his parents.
As the eastern Chinese metropolis imposed prevention and control measures against COVID-19, Matveev brought cookies and candies from a Russian friend's company, and handed them out to the elders and children in his compound. "Sweets are not a necessity, but they might be good for the mood," said Matveev, adding this is something he could do at a time of uncertainties.
Having been accustomed to life in Beijing, he was a little hesitant at first when he was dispatched to work in Shanghai; when he arrived there, he found that many elderly people spoke the Shanghai dialect, which was an additional communication barrier. But as time went by, he has found something lovely inside the elder people in the city, "The elders are all childishly lovely, just like children somehow."
One day when Matveev was handing out small gift bags, he met a couple, who were both retired teachers. "When he (the husband)found that I was a foreigner, he first spoke French to me. When he realised I didn't understand, he tried his English on me. Then I told him that I speak Chinese. When he learnt that I am Russian, he immediately uttered some Russian sentences."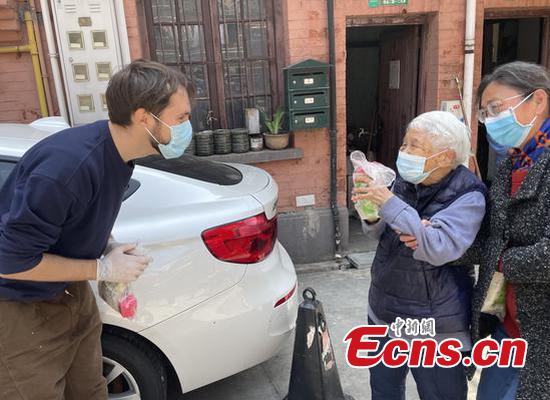 Evgeniy Matveev (L) hands cookies and candies to the elders. (Provided by the interviewee)
"The couple both speak Russian, which made me feel quite warm, as I haven't seen my maternal grandparents for really a long time," said Matveev. Later, he learned that a lot of Chinese people learnt Russian back in the 1950s.
The Russian expat went to Beijing at the age of 14, and studied at an international school. Unlike many of his well-performing fellow Russian students, who returned to Russia after graduation and sought enrollment at top domestic universities there, Matveev was among the few who chose to stay in China: he went on to pursue undergraduate studies at the renowned Tsinghua University in Beijing.
That was his first time abroad, it also was the first time that his life had changed so much, " I can't waste this opportunity here, I want to try ."
Matveev's parents returned to their home country during his first year in university. Back then, they were a little worried about him, "it was difficult to study at Tsinghua University, but they encouraged me to do so in the end," he added.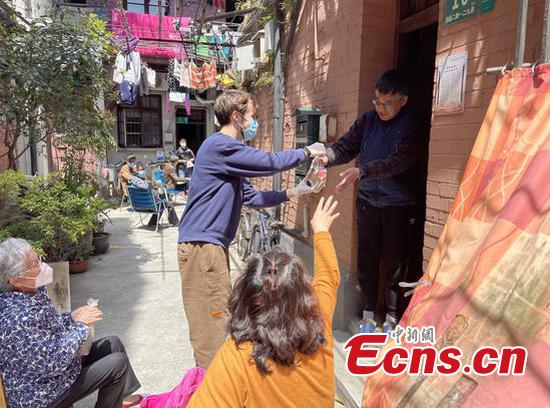 Evgeniy Matveev (L) hands cookies and candies to the elders (Provided by the interviewee)
Another reason for Matveev's stay is his belief on the rise of China, and thus of its language. "Globally, the Chinese language could be the future. So I thought, if I could learn it, I would gain some advantage in the market in the future."
"Apparently that was not a wrong choice," looking back several years later, Matveev still thinks of it as the right decision. Since China has experienced unprecedented changes in the past decade or so, Matveev said, "I'm lucky that I've witnessed the rapid development of China myself, and it's really worth the stay."
The most impressive change, for the Russian expat, is that of "speed". Matveev still remembers the year when he graduated from high school when he and his classmates traveled to Shanghai from Beijing on an old-fashioned "green-skinned" train, a lengthy and jingling ride that took them more than 20 hours. After Matveev moved to Shanghai, such a trip between the two cities took only over four hours on the high-speed train. "It feels like I just replied a few e-mails aboard the train, and then I had already arrived the destination. It's really impressive."
After graduation, Matveev first worked in Beijing, where he was employed by a Russian company. A few years later, he was dispatched to Shanghai to work for a new joint venture as his company was set up in partnership with a Chinese firm. "The industry has a rather big market, with a relatively stable growth and development in the right direction."
Though his company has been affected by the Covid-19 pandemic too, with rising air ticket fares and soaring transportation costs, it has also discovered new opportunities for the industry, as well as new areas of cooperation, "Degradable plastics, for example, have suddenly become popular in China, thanks to the Beijing 2022 Olympic Winter Games. Russia has relevant technological processes. There are now more business opportunities." he said.
"There will always be some opportunities in times of difficulties." He concluded.