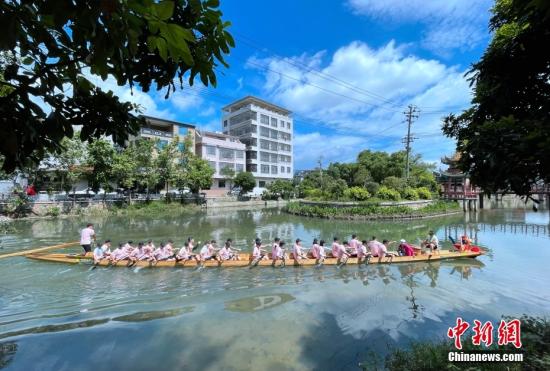 People row a dragon boat in Fuzhou, Fujian Province on May 29, 2022, to celebrate the upcoming festival. (Photo: China News Service/Zhang Bin)
(ECNS) -- Duanwu Festival, or the Dragon Boat Festival, falls on June 3 this year.
Duan means the "beginning of a month." Since the Tang Dynasty (618-907), May and the fifth of a month are referred to as Wu, this is the origin of Duanwu. Since it contains two Wu, this day is also described as Double Wu.
There are many legends about the 2,000-year-old festival, but the most famous one is to commemorate Qu Yuan, a patriotic poet in the State of Chu during the Warring States Period (475-221 BC).
Qu is said to have been loyal and patriotic. When he realized the decline of Chu was beyond recovery, he jumped into the Miluo River and drowned himself on the fifth day of the fifth lunar month.
What customs does it have?
Dragon boat race is one of the most popular activities of the festival. Apart from this, people usually hang mugwort leaves and calamus on the doors or windows to repel insects, flies, fleas and moths from the house, thus to prevent an epidemic.
Some parents also tie five-color silk thread to children's wrists, ankles, or around neck to protect them from evil. Five-color thread holds special significance in China in that it is thought to contain magical and healing properties. Only after the first summer rainfall can the children throw the thread. This is thought to protect the children from plague and diseases.
What do people eat or drink during this festival?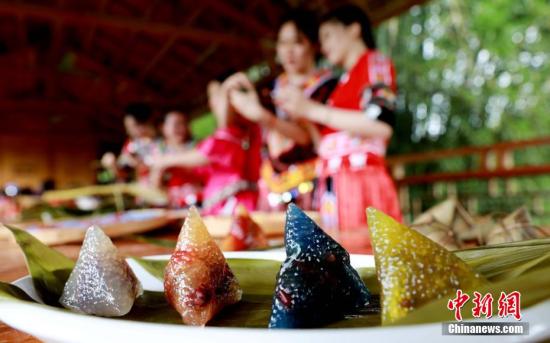 Women of Zhuang ethnic group make Zongzi of different colors in Guangxi Zhuang Autonomous Region to celebrate the festival.(Photo/China News Service)
Zongzi (pyramid-shaped glutinous dumplings wrapped in reed leaves) is must-have food. Salted duck egg and realgar wine, or Xionghuang wine, are also popular.
The tradition of zongzi is meant to remind us of village fishermen scattering rice across the water of the Miluo River in order to appease the river dragons and fish so that they would not devour Qu Yuan.