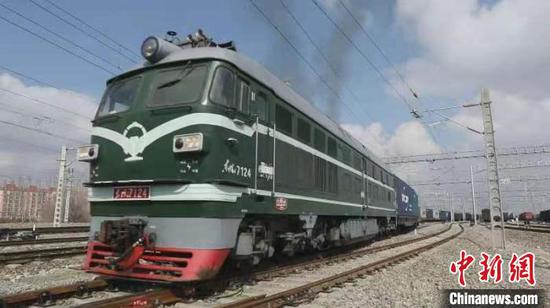 A China-Europe freight train is seen at the Horgos Port in northwest China's Xinjiang Uygur Autonomous Region. (Photo: China News Service/Li Ming)
(ECNS) -- A Jiaozhou-Vorsino freight train carrying 49 containers of forklifts, iron oxide and polyester chips departed from Horgos for Vorsino in Russia on Monday.
As of Monday, Horgos Port in northwest China's Xinjiang Uygur Autonomous Region has handled more than 5,000 China-Europe freight trains this year, reaching 5,044, according to the port station.
Horgos Port has gradually become a gateway connecting Asia and Europe, with a variety of goods ranging from IT products to hundreds of commodities like clothing, auto parts, furniture, chemicals and technology equipment.
This year, the Horgos Port station has added a pair of interchange loading tracks and extended 10 arrival–departure tracks, said Chen Kaiqiang, assistant economist of operation management division of the Horgos Port station.
Chen added that the transport capacity of the station has increased by more than 30 percent, and the volume of import and export goods transported via Horgos by 50 percent year-on-year.
The average number of daily China-Europe freight-train services reached 22 trips in 2021, with the highest number reaching 28 trips on a single day, said Chen.
In addition, the quick customs clearance procedure, implemented on Sept. 10 this year, has improved the efficiency of cargo clearance and reduced the clearance time by 3.5 hours on average, said Yu Wenjing, a local customs official.
The port handled 377, 834, 2,055, 3,404 and 4,722 China-Europe freight trains from 2016 to 2020, respectively, data from the port station showed.