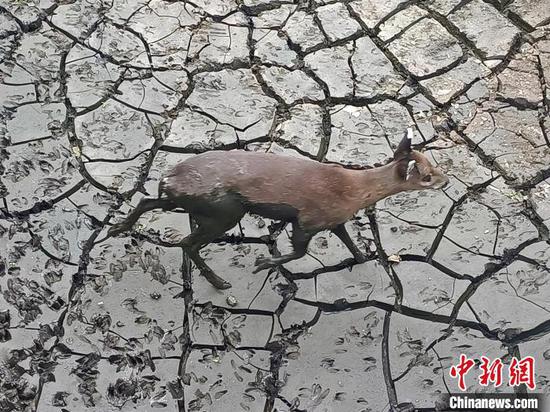 The trapped deer is rescued on Friday. (Photo provided to China News Service by the Wufeng Police Bureau)
(ECNS) -- A rare wild tufted deer found trapped in a sewage pool of Niuzhuang Village in Wufeng Tujia Autonomous County, Hubei Province was rescued and released back to nature Friday.
At 11:00 am on Friday, Niuzhuang Police Station received an alarm from local villagers, saying that a deer was trapped in a local sewage pool, and could not escape because of the high wall. The deer might have been trapped here for at least one day, said villagers.
Police then contacted the local forestry management station and carried out a joint rescue operation.
In order to not frighten the deer, a hole was smashed into the pool's middle partition with a hammer before the deer was led to higher spot, from which it eventually jumped out.
The trapped animal turned out to be a rare tufted deer, a national second-class protected animal.
The deer, which sustained no injuries and appeared in a good mental state, was immediately released back into the wild.