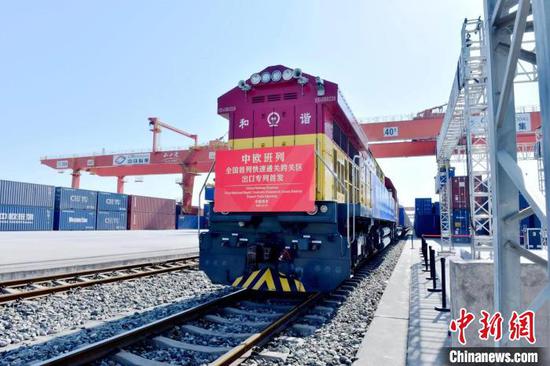 China-Europe freight trains have covered 174 European cities. (Photo/China News Service)
(ECNS) -- A total 73 China-Europe freight lines have reached 174 cities of 23 European countries, while the logistics distribution network has covered the entire Eurasia, said Meng Wei, spokesperson for National Development and Reform Commission, at a press conference on Thursday.
Against the COVID-19 backdrop, China-European freight trains give full play to the unique advantages of international railway intermodal transport, and vigorously undertake the transfer of goods by sea and air, playing a key role in stabilizing international supply and industry chains and facilitating the global fight against the pandemic, said Meng.
The monthly operation number of China-European freight trains has hit a record high. A total 1,323 China-European freight trains operated in August, surpassing 1,300 for the fourth consecutive month, with 128,000 twenty-foot equivalent units (TEUs) being transported, up by 9% and 16% respectively year-on-year, while the ratio of loaded containers reached 98.4%.
It is the 16th consecutive month that more than 1,000 China-European freight trains have been operated since the outbreak of COVID-19.
The annual operation volume of China-European freight lines has exceeded 10,000 ahead of schedule. A total 10,052 trains were run from January to August, exceeding 10,000 two months earlier than last year, while 967,000 TEUs were transported, up by 32% and 40% respectively year-on-year, with the ratio of loaded containers at 97.9%. China-European freight trains have solved urgent problems faced by companies.
Based on the principle of win-win cooperation, China-European freight lines are covering more and more European destinations.