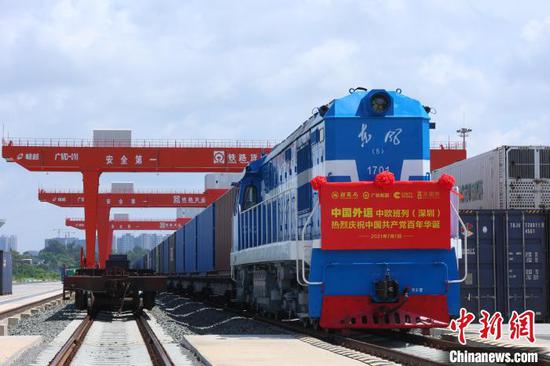 A China-Europe freight train departs from Pinghu South Station in Shenzhen, Guangdong Province on Thursday. (Photo/China News Service)
(ECNS) -- Four China-Europe freight trains launched by China's Sinotrans Limited departed Zengcheng West Station in Guangzhou, Pinghu South Station in Shenzhen, Shilong Station in Dongguan, Guangdong Province and Changsha North Station in Hunan Province respectively Thursday.
The four cross-border trains would arrive at Duisburg in Germany, Vorsino in Russia and Minsk in Belarus as scheduled after about half a month's journey.
It is the first time that Sinotrans has simultaneously launched several cross-border trains from different cities.
The four trains were loaded with 200 containers carrying epidemic prevention materials, toys, lamps, bicycle frames, electronic products, furniture, etc.
Sinotrans launched freight trains heading for European and Asian countries in 2013. The four cross-border train operation locations in south China have formed a China-Europe freight train network extending in all directions.