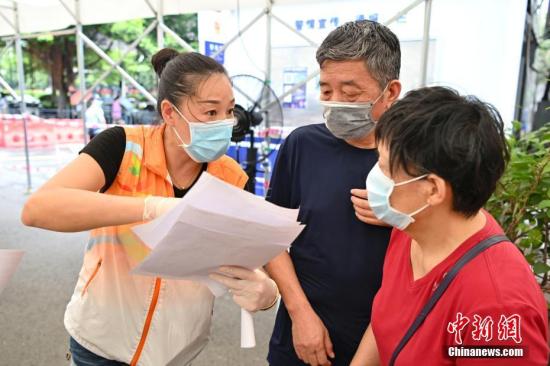 A staff member of No. 2 People's Hospital of Guangdong Province explains to an eldly woman about the COVID-19 vaccination in Guangzhou, Guangdong Province, July 1, 2021. (Photo/China News Service)
Special: Battle Against Novel Coronavirus
Residents older than 60 began to receive COVID-19 vaccinations on Thursday in Guangdong, the most populous province in the country.
Most of the vaccines used in Guangdong are of the inactivated virus type, the provincial health commission said, adding that they are an effective way to control the pandemic.
As of Wednesday, more than 125 million doses of vaccines had been administered to about 68.2 million people in Guangdong.
More than 54 percent of the 126 million permanent resident population have received at least one shot, and about 47 percent had been fully vaccinated with two doses, authorities said.