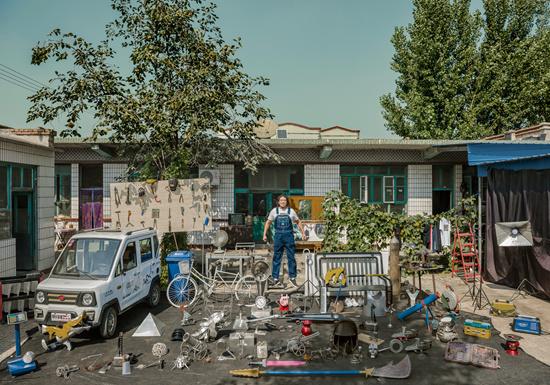 Geng Shuai, nicknamed "Useless Edison", stands among his inventions. (Photo/ China Youth Daily)
(ECNS) -- A tall man with a stubbly beard and oily hair, Geng Shuai has the sort of glazed eyes people often associate with an artist.
With nicknames including "Useless Edison", his work forms part of a recent exhibition at Beijing's 798 Art Zone.
An online celebrity on short-video app Kuaishou, he is challenging conventional ideas about what makes an invention useful, in his own quirky, cute way.
Geng, a migrant worker who once worked in Beijing, now lives in his hometown village in Baoding City of Hebei Province.
In the past three years, Geng, also nicknamed "Brother Geng", has created a dazzling collection of tools, including a "quake-proof noodle bowl", a Gatling gun made of bolts, and a comb made from a kitchen-knife. His short videos showing off such creations have received millions of views on Kuaishou.
The grassroots handicraftsman creates his work with both humor and passion, attracting nearly 2.4 million followers on Douyin, the international edition called TikTok, and 3.6 million followers on Kuaishou.
Geng said his childhood dream was to be a painter but he found the dream "unrealistic" in primary school. As a middle school pupil, he changed his plans in order to make money and perhaps find a good job, China Youth Daily reported.
Geng's parents, both farmers, told him a good job entails working in an office rather than toiling in the field.
However, after finishing high school, Geng tried many kinds of labor-intensive jobs, working on different construction sites one after another. In 2017, he decided to focus on hand-made crafts and started sharing his videos on Kuaishou.
Despite his million-plus followers, few are interested in buying his creations on e-commerce site Taobao.com. But Geng realizes people like him not for the practical use of his works but for his dedication to making useless inventions, which is another way of usefulness.
"I don't want to do something ordinary. I want to make a little change to our boring lives, like causing a ripple in a quiet pond," Geng said.
As a celebrity, he often finds himself the subject of interviews or working with corporate sponsorship. However, he said he is still interested in making creations, seeking larger and more complicated projects.
Geng said he's changed little about his life and still buys knock-offs and cheap products. His biggest spending is on stainless steel plates and other materials necessary for his inventions.