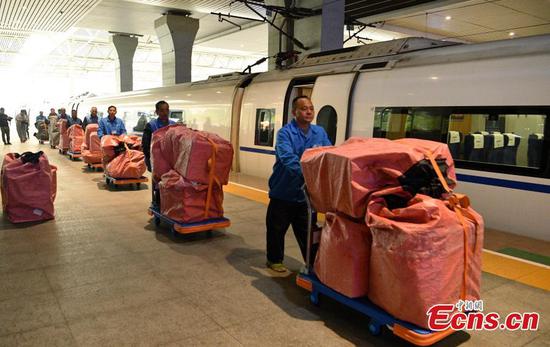 Bags of parcels containing goods purchased during the Singles' Day shopping festival are loaded onto a train at a station in Chengdu City, Sichuan Province for delivery to Nanjing City in Jiangsu Province, Nov. 11, 2019. China's rapid railway network is also contributing to the fast transportation of numerous express parcels, which can reach a historical high during the Nov. 11 Singles' Day sales, one of the largest online shopping sprees worldwide. (Photo: China News Service/Liu Zhongjubn)
(ECNS) -- The annual Singles' Day shopping festival, initiated by Alibaba's e-commerce platform Tmall on Nov. 11, 2009 has seen more Chinese consumers rush to purchase imported products this year, said Alvin Liu, general manager of Tmall Import and Export.
More and more international brands use Tmall to woo Chinese buyers, with 120,000 new products released during this year's festival alone.
By 8:00 p.m. on Nov. 11, 80 festival debuting brands sold products worth one million yuan, with 162 brands reporting sales of 10 million yuan.
The shopping spree reveals the dramatic growth in Chinese buying of foreign products. One consumer placed orders for 97 imported products from 13 countries and regions, according to Liu.
Among the records, Chinese consumers snapped up 6,000 beauty devices, each priced at more than 10,000 yuan, in 30 seconds, and also purchased 15,000 bottles of Kim Kardashian's KKW fragrance, launched for the first time in Asia, in just one minute.
Data shows nearly 1,000 foreign cyber celebrities broadcast live on Tmall in different languages to boost global consumption.
As Chinese companies store their products in overseas warehouses, overseas Chinese also joined the shopping festival, with their average spending 50 percent higher than that of domestic consumers.
Alibaba is set to help international companies and brands, large or small, grow their customer-base all across the world, Liu confirmed.