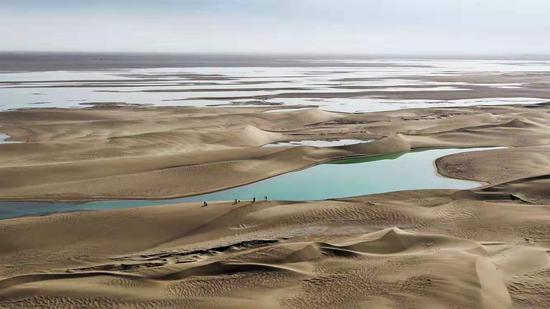 Halaqi Lake reemerges after years of conservation efforts in Dunhuang West Lake National Nature Reserve Area of Northwest China's Gansu Province. (Photo/Beijing News)
Special: 70th birthday of PRChina
(ECNS) -- A lake that disappeared for nearly 300 years has reemerged after years of conservation efforts in Dunhuang West Lake National Nature Reserve Area of Northwest China's Gansu Province.
Halaqi Lake used to be the final destination of Shule River, which flows generally westwards from Qilian Mountains through the Tibetan Plateau and desert regions, unlike most of China's east-flowing rivers.
At its peak, the lake covered 200 square kilometers and boasted about 800 square kilometers of wetlands. Due to desertification and irrigation diversions, the flow of Shule River was reduced so significantly that the lake disappeared for hundreds of years, surrounded by Kumtag Desert.
Dunhuang West Lake became a national nature reserve in 2003 amid efforts to preserve its wetlands and habitat for rare animals and plants. Gansu also increased management of Shule River through efforts such as improving efficiency in agricultural irrigation.
As a centerpiece project, Shule River now includes a channel 97 kilometers long, 30 meters wide and 3 meters deep that ensures water to supply the national nature reserve area and helps scores of wildlife species thrive as the ecological system recovers.
As a result, Halaqi Lake now covers 5 square kilometers along the border of the nature reserve and Kumtag Desert.