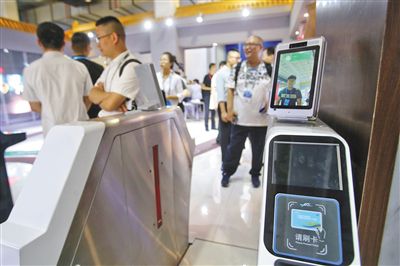 Beijing subway staff members test facial recognition technology. (File photo/Beijing News)
Special: 70th birthday of PRChina
(ECNS) -- Beijing's metro authorities will attempt to use facial recognition to quickly improve safety checks, Beijing News reported, citing sources from Urban Rail Transit Operation and Development Forum that opened in the capital on Tuesday.
Xie Zhengguang, general manager of Beijing Metro Operation Co., Ltd, said Beijing Metro will establish a passenger credit system and adopt a white list to allow some passengers to pass safety checks more rapidly and also join other departments to punish rule violators.
From 2000 to 2019, Beijing Metro opened a total of 21 new lines, increasing the operating mileage from 54 to 699 kilometers, said Xie. Annual commuter numbers also rose from 435 million to 3.848 billion as train intervals on main subway lines were reduced to every two minutes, a world class level.
Zhan Minghui, director of Beijing Rail Transit Control Centre, said the current safety check method has challenges in coping with the large volume of passengers because it keeps an eye on both the passengers and their belongings at the same time.
In future, facial recognition technology will be applied to improve safety checks. Passengers could be divided into commuter groups that get different checks through use of a database on facial features.