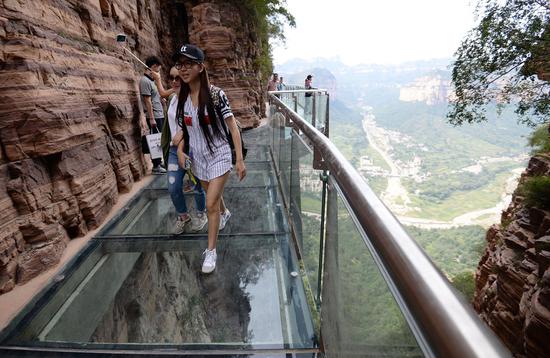 Tourists experience a glass walkway in a scenic area in Handan, Hebei Province, in September. (Photo / China Daily)
(ECNS)-- Many tourist attractions in China have closed glass walkways built in a rush to woo adventurous visitors but without sufficient care for safety and management, Jiemian News reported.
Amid a lack of national standards and supervision over such facilities, Hebei Province was the first to introduce regional requirements on construction materials, design and visitor numbers. The province has closed 32 glass bridges and walkways in 24 scenic areas over the past 18 months.
In South China's Guangdong Province, authorities demanded changes in similar glass amenities at six 4A-level scenic spots, the second highest-ranking in China's tourism grading system.
China now has about 2,300 glass bridges and an undetermined number of glass walkways or slides. In many regions, facilities have had safety problems that sometimes led to fatalities.
In 2016, a tourist was injured by falling rocks when walking on the glass walkway in Zhangjiajie, Central China's Hunan Province. In 2017, one died in an accident on the glass slide at Mulan Shengtian scenic area in Hubei Province. Another incident, at Foziling scenic area in Pingnan County of Guangxi Zhuang Autonomous Region, left one tourist dead and six injured.
Long Tao, who works for an investment group specialized in the field of sightseeing projects, said glass bridges were at first an innovation for tourist attractions designed to boost appeal but have since lost their allure after the rise of many similar projects. He said the government needs to increase regulation over such facilities.