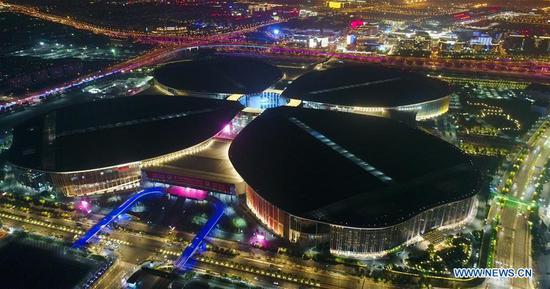 Aerial photo taken on Oct. 27, 2019 shows a night view of the National Exhibition and Convention Center (Shanghai), the venue of the second China International Import Expo (CIIE), in east China's Shanghai. (Xinhua/Ding Ting)
Special: The Second China International Import Expo
China is prepared for the second China International Import Expo (CIIE) that will run from Nov. 5 to 10 in Shanghai, Vice Minister of Commerce Wang Bingnan said Tuesday.
Covering a total area of 30,000 square meters, the country exhibition of the expo will host 64 countries (including China) and three international organizations with unique designed pavilions to showcase their developments and achievements, business environment and characteristic industries, Wang said at a press conference.
Fifteen guest countries of honors of the expo include Cambodia, the Czech Republic, France, Greece, India, Italy, Jamaica, Jordan, Kazakhstan, Malaysia, Peru, Russia, Thailand, Uzbekistan and Zambia.
The expo is composed of three parts: the country exhibition, the business exhibition and the Second Hongqiao International Economic Forum. Guests and representatives from more than 170 countries and regions have been invited to attend the expo so far.