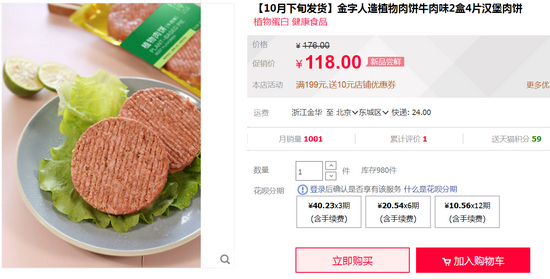 (Photo/Screenshot on Tmall)
(ECNS) -- The pre-sale of synthetic meat on Tmall, Alibaba's online marketplace, made the Zhejiang-based company Jinzi Ham the first in the country to take artificial meat to market, but its high price has daunted many consumers.
Prices start from 118 yuan ($16.62) for two boxes of artificial meat weighing 440 grams, six times the price of pork.
The product is made from plant proteins, including soybeans and peas in cooperation with DuPont.
The company said the product is similar to real meat in terms of nutrients, taste and texture, but some consumers have expressed doubts about the high prices.
Wang Qihui, the company's board secretary, said current pricing is based on cost and market research but when sales rise the price will change a lot.
After Beyond Meat sold plant-based meat alternatives in May, there have been a surge of registrations for this type of business each month in China, said Xue Yan, secretary-general of the China Vegetable Food Industry Alliance.
But some insiders argued that the high cost and Chinese consumer tastes make it impossible for artificial meat to replace real meat in the short term.
The global market for "artificial meat" is expected to reach $12.1 billion in 2019 and grow at a compound annual growth rate of 15% to $27.9 billion by 2025, according to MarketsandMarkets.