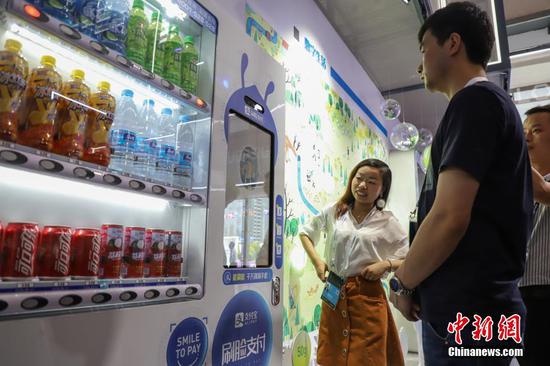 A man experiences facial recognition-based payment at China International Big Data Industry Expo held in Guiyang in May, 2019. (Photo/China News Service)
(ECNS) - Privacy concerns are hindering the use of facial recognition-based payment options despite the initial media frenzy and availability of the devices, China National Radio reported.
One convenience store in Beijing installed a device in April this year, but very few customers use it, the store owner said. One reason is that the system, supported by either Alipay or WeChat Pay, is not fast enough compared to code-entering payments.
But a bigger concern for many people is a possible slippery slope into privacy breaches. As one user said, "If my face can be used to make payments, I will look like a walking password every day when I'm on the street."
Zhang Yinghui, president of a data startup in Beijing, said that facial recognition uses information in cloud storage to compare images with those collected at a site to verify authenticity. However, if the database is compromised and someone's personal information is hacked, there is a risk that accounts may be breached.
Alipay, the financial arm of e-commerce giant Alibaba, along with Tencent's WeChat have increased efforts to popularize facial recognition payment. Alipay plans to install approximately one million such devices this year and has prepared all kinds of incentives to woo stores.
Liu Junhai, a professor at the Law School of Renmin University of China, said authorities need to introduce laws to regulate facial recognition technology to address privacy concerns. Enterprises also need to be self-disciplined and transparent in collecting and protecting consumer information.