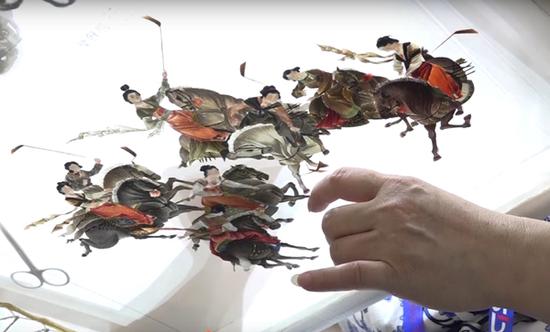 An embroider shows the craft of Wuxi fine embroidery in Jiangsu. (Photo/Screenshot on CNSTV)
(ECNS) - Wuxi City in Jiangsu Province has been known for its silk since ancient times and is also one of the birthplaces of Su embroidery. With a history of more than 2,000 years, the craft is named "Wuxi embroidery"(or Xixiu) after the location.
Wuxi embroidery is mainly two-faced or double-sided. But what makes it stand out is its elaborate use of needlework, threads, materials and colors, which mean higher technical requirements and complexities.
"Silk thread for this exquisite embroidery is split into as many as 70 or 80 strands. It is so thin that the embroidery appears vivid even under a magnifying glass," said Zhao Hongyu, a master of the craft who is recognized as an inheritor of the national intangible cultural heritage.
The artistic features of the embroidery are mainly reflected in its small size, ingenious design and remarkable technique. Like Chinese painting, Wuxi embroidery has been recognized as a treasured historical craft.