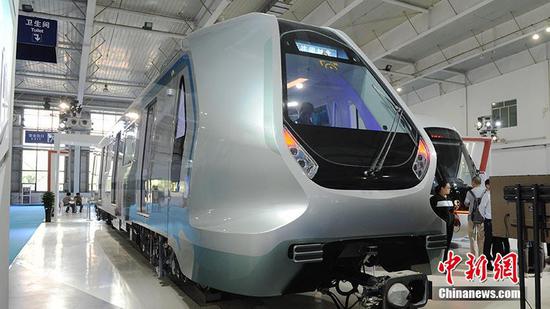 A futuristic subway train manufactured by CRRC Qingdao Sifang Co. (File photo/China News Service)
(ECNS)-- Chinese rolling stock manufacturer CRRC Qingdao Sifang Co. has unveiled its new "subway train of the future," saying it will be lighter, smarter and more comfortable.
With six carriages featuring cutting-edge carbon fiber technology, the train has completed its first trial run in eastern Qingdao city, Science and Technology Daily reported.
Carbon fiber composite materials used in many of its components -- including main body, driver's cabin and equipment compartment -- make it 13 percent lighter than traditional subway trains, according to the company.
The use of more energy-efficient systems can cut energy consumption by 15 percent, making it a favorite choice in upgrading metro networks.
The train is smart, with fully automatic driving and intelligent adjustment of air conditioning and lighting systems. The most futuristic change lies in the train's windows, which can turn into a large touch screen, allowing passengers to select news or TV programs with a fingertip.
It is also equipped with a powerful intelligent monitoring and early warning system to boost safety. The new technologies and materials can reduce noise inside the carriages to a lower level, even at 140 kilometers an hour.
The train can be adjusted to include 2 to 12 cars, which is expected to reduce operational costs and cope with different weather, said the report.